Back to news
Piedmont University to Host Georgia Music Teachers Association Annual Conference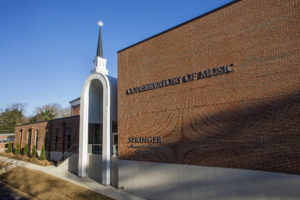 Piedmont University will welcome educators from across the state for the Georgia Music Teachers Association's annual conference Nov. 4-6.
"We are thrilled to provide a venue for the state's music educators to network, learn from one another, and exchange ideas that they will take home and implement with their students," said President James F. Mellichamp.
"Piedmont University has a long history of promoting and supporting the arts. Hosting the GMTA is another demonstration of our commitment to excellence in arts education."
The GMTA is a nonprofit organization of independent and collegiate music teachers throughout the state, who are committed to furthering the art of music through programs that encourage and support teaching, performance, composition, and scholarly research.
Approximately 100 educators are expected to attend this year's annual conference.
During the three-day event, attendees will participate in sessions on topics such as ear training, audio quality, marketing for music schools, music theory and research, teaching methodologies, and promoting physical health through efficient practice. There will also be performance and masterclass events.
Piedmont music students will also attend to gain knowledge they will use in their future careers.
Senior Artist-in-Residence Jeri-Mae Astolfi was integral in bringing the GMTA conference to Piedmont.
"This is an important event and very exciting opportunity for Piedmont to interact with and support the state's independent and collegiate music educators," she said.
GMTA sessions will take place at the Conservatory of Music, Chapel, and Student Commons at the university's Demorest campus.
"We chose Piedmont because of the beautiful campus and the wonderful music facilities. What a gracious and accommodating faculty and staff we've had to work with," said Kristi Helfen, the GMTA's vice president for programs.
"We are so excited to be coming and look forward to seeing you soon!"
Approximately 15 percent of Piedmont's undergraduate students participate in music academic programs and ensembles. The Demorest campus is home to the university's new $10.1 million Conservatory of Music. Piedmont is a designated All-Steinway School. For more information about the music program, visit piedmont.edu/program/music.