Back to news
With Two Piedmont Graduate Degrees, Teacher Sean McCann Eyes Future in School Administration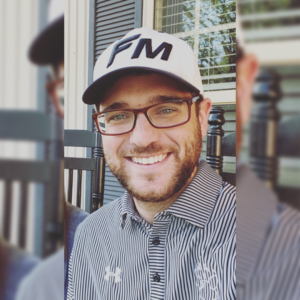 Through his graduate studies at Piedmont University, Sean McCann has gained confidence in his teaching skills.
Now, he goes to work every day, determined to help his own students grow more confident in themselves, too.
"It's a great feeling to be there for the moment when the lightbulb goes off, when a student solves the problem and realizes, 'I can do this,'" said McCann, who earned his Master of Arts in Middle Grades Education from Piedmont in 2020 and will graduate with his Education Specialist degree in December.
McCann grew up in Houston County, Ga., and all through high school, worked at a local Chick-fil-A. He planned to one day own a franchise, so when he enrolled at Middle Georgia State University, he majored in business and marketing.
"But I hit a wall with the grind of fast food, and around that same time, I started volunteering for my church," he said.
"I fell in love with working with the kids."
McCann was too far into his bachelor's degree to change his course of study, so he graduated and went to work for a bank. Not long after he started the job, he learned about the Georgia Teacher Academy for Preparation and Pedagogy, a teacher preparation program for those who hold non-education bachelor's degrees.
McCann completed the program, becoming certified to teach math, science, and social studies. For the last five years, he has worked as an eighth-grade math teacher at Feagin Mill Middle School, located in Warner Robins, Ga., in the same county where he grew up.
From his first day in the classroom, McCann loved teaching, but to provide his students with the highest quality education, he realized he needed to go back to school himself. Several of his colleagues had recommended Piedmont University.
"Piedmont understands we're professionals," he said. "The faculty are all very understanding and flexible."
McCann enjoyed his master's program so much, that after graduating, he re-enrolled at Piedmont to earn his Education Specialist degree.
In both programs, he has appreciated the relationships he's developed with Piedmont's faculty and students.
"In both my online and in-person classes, we've had great discussions and applied what we're learning in class to our jobs. The classes have allowed me to learn from others and their experiences," McCann said.
"A couple years ago, my school was rezoned. My classes have helped me be able to serve students of different backgrounds."
While advancing his education, McCann has become more confident in all aspects of his career, from curriculum to instruction to meeting student needs. He's now considering a future in school administration.
"I enjoy helping students, and helping every student become the best possible version of themselves," he said. "Going into leadership would allow me to do that from a different vantage point."
Now, McCann is the one recommending Piedmont to teachers seeking to further their own education.
"Piedmont is a great choice," he said. "Piedmont is looking for good students so it can grow, at the same time, Piedmont helps its students grow as professionals. It's a perfect marriage."
Piedmont University leads the State of Georgia in teacher placements. Learn more about undergraduate and graduate degrees in education offered at Piedmont's College of Education.