Back to news
Piedmont University to Host Award-Winning Seraph Brass for Oct. 19 Performance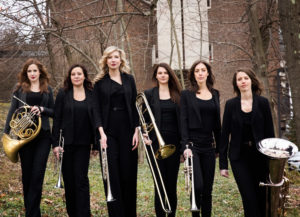 Piedmont University will host Seraph Brass, an award-winning, all-female ensemble, for a performance at 7:30 p.m. on Oct. 19 at the chapel located on the Demorest campus.
The performance is free and open to the public. Face coverings and social distancing will be required.
Drawing from a roster of the nation's top female brass players, Seraph Brass has toured throughout the United States, Europe, Mexico, and China. Members have performed with the Chicago Symphony Orchestra, New York Philharmonic, San Francisco Symphony, Luzern Music Festival in Switzerland, and more.
Members of the ensemble currently hold positions with the Richmond Symphony, World and European Brass Association, Louisville Orchestra, Artosphere Orchestra, University of North Texas, University of Richmond, University of North Carolina School of the Arts, University of Wisconsin-Madison, and Shenandoah Conservatory.
Dr. Wallace Hinson, music professor and associate dean of the School of Fine Arts, said Piedmont is thrilled to host Seraph Brass — and offer the local community the chance to enjoy their talents.
"This is an impressive group making their second visit to Piedmont," Hinson said.
"This ensemble performs a wide-ranging repertoire with expressiveness and power. Hearing the Seraph Brass is a must for all brass lovers. You don't want to miss this."
Piedmont University's chapel is located at 922 Central Ave., Demorest.
Learn more about Piedmont's Fine Arts programs and events schedule.