Back to news
Barbecue Entrepreneur Returns to Piedmont University for Master of Business Administration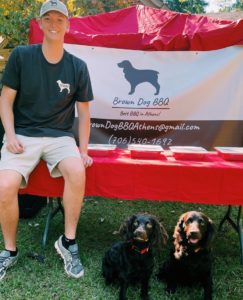 During his undergraduate studies at Piedmont University, John Cross wrote the business plan for his now-thriving venture, Brown Dog BBQ.
Now, Cross is back in the classroom, earning his Master of Business Administration from Piedmont.
"I had a great undergrad experience at Piedmont. I wanted to keep learning, and I wanted to keep learning from the same professors because they're all very knowledgeable and supportive. That's why I chose to continue at Piedmont for my MBA," Cross said.
Cross, a native of Athens, attended Prince Avenue Christian School, where he thrived in small classes and a close-knit environment. When it came time for college, Cross wanted a similar setting, and he found it at Piedmont.
"I came for a visit, met some of the professors, and got a feel for what it would be like to go to school here," he said. "It was a great fit."
Cross named Associate Professor of Business Margaret Ryder and Business Fellow Phillip Mowery as being especially influential during his time at Piedmont.
"I've enjoyed all my professors," he said. "For me, knowing my professor makes me want to do better. I actually care about what my professor sees, and I want to do my best for them."
Cross has always enjoyed cooking — especially pulled pork and brisket — and bringing his family and friends together through food. As he progressed through undergrad, he decided to turn his passion for barbecue into his career path. While pursuing his bachelor's in business, he worked for a barbecue catering company.
"I really enjoyed it, and I decided that one day, I would go into business for myself," Cross said.
While in undergrad, Cross used his classes to develop and refine the business plan for Brown Dog BBQ.
He specifically remembers his professors encouraging him to take every chance to get his name out there, from participating in barbecue competitions to serving at local food festivals.
Since forming Brown Dog BBQ — named to honor his two Boykin Spaniels — four months ago, Cross has taken his professors' advice. He's catered tailgates, corporate events, and church gatherings, serving up a menu that ranges from pulled pork and macaroni and cheese to beef wellington and bacon-wrapped quail.
Next week, he will cater his largest event yet, serving 200 people at a function hosted by his alma mater, Prince Avenue Christian.
"This is going to be my biggest challenge yet," he said. "I'm really proud I have the opportunity to cater an event of this size."
Cross began his MBA in August. The online format of the classes allows him to balance his studies without having to turn down catering jobs.
Already, he is certain his graduate education from Piedmont will help him to continue growing Brown Dog BBQ — and living his passion every day.
"In just a few weeks, I can tell my classes have improved my critical thinking, writing, and analytical skills," he said.
"I'm learning to be more detailed, and in business, every detail matters."
For more information about Brown Dog BBQ, contact Cross at BrownDogBBQAthens@gmail.com.
Piedmont University's Walker College of Business offers undergraduate and graduate degrees designed to prepare students for successful careers in business.