Back to news
Piedmont History Professor Aims to Teach the Past — and How to Make a Better Future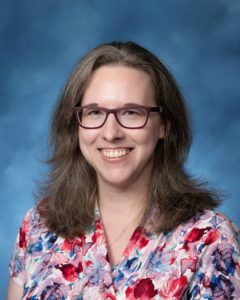 Ever since she can remember, Scarlet Jernigan has been fascinated by history, and particularly the history of Georgia, her native state.
As a faculty member at Piedmont University, she hopes to nurture the same appreciation in her students.
"I was so excited to be hired by Piedmont because it is in Georgia. I'm going to have the chance to teach a course in Georgia history and to help my students learn more about the state that I love," she said.
Jernigan can't recall the moment when she decided to make history her life's work. It's just always been part of what makes her, her.
"I think I was in fourth or fifth grade when I decided I wanted to be a historian," she said. "I guess you would say that it was meant to be."
A native of Fairburn, Ga., Jernigan's family has traced its roots in Georgia back more than 200 years. Through that research, she learned she is distantly related to country music legend Johnny Cash. Stop by her office, and you'll see pictures of her ancestors hanging on her wall — though Cash didn't make it into the display.
"History made us who we are. We have to try to understand it," she said.
"When we learn about history, we have to use our imaginations to put ourselves in the shoes of those people. When we do that, we develop empathy and sympathy for others. I think that's very helpful in today's world."
Jernigan, a first-generation college graduate, earned her Bachelor of Arts in history and Master of Science in secondary history education from Pensacola Christian College. She went on to earn another master's degree and her Ph.D. in history from Texas Christian University.
For her dissertation at TCU, Jernigan mapped Macon, Ga., a process that involved deep research of its history, early residents, and their lives. During the process, Jernigan came across many examples of individuals who didn't conform to Southern stereotypes. One of those individuals was William Butler Johnston.
"He was a native-born Southerner, very wealthy and business-oriented," she said. "He got his start in jewelry, owning one of the largest jewelry stores between Charleston and New Orleans, but he built a very wide-ranging portfolio that included fine art purchased in Europe. He was not your 'typical' Southerner."
Jernigan is currently teaching U.S. and World History, but she will begin teaching a course in Georgia history in the spring.
By teaching a more complete history of the South, and Georgia specifically, Jernigan hopes to expand society's understanding of the region, and in doing so, teach a new generation to look beyond stereotypes.
"We so often see the worst in people," she said. "But there is always more if we are willing to look."