Back to news
Piedmont launches new degree program in communication sciences and disorders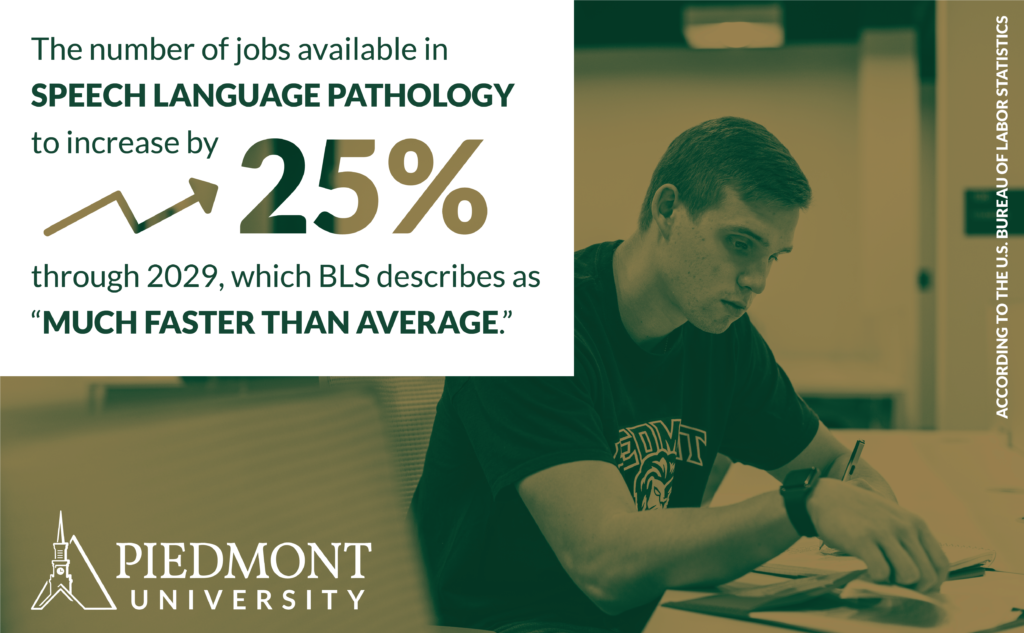 Piedmont University's degree offerings expanded yet again in Aug. 2021, with the addition of a Bachelor of Science in Communication Sciences and Disorders, and a master's degree program in the field is planned for 2023.
"Nationwide, there is a shortage of speech language pathologists," said Julia Behr, dean of the College of Nursing and Health Sciences.
"Piedmont saw an opportunity to design and develop a unique program that will address workforce needs and provide students with a streamlined path to their future careers, all while ensuring they receive personalized instruction and real-world experiences that will set them apart from others in their field."
The Communication Sciences and Disorders program will prepare students to work as speech-language pathologists, a profession that involves assessing, diagnosing, treating, and helping to prevent communication and swallowing disorders in patients of all ages. According to the U.S. Bureau of Labor Statistics, the number of jobs available in speech language pathology is expected to increase by 25 percent through 2029, which the BLS describes as "much faster than average."
Students pursing the bachelor's degree will receive broad academic preparation for identifying and treating communication disorders, through courses in language development, audiology, and linguistics.
The bachelor's degree will prepare students to continue straight into Piedmont's master's degree program. A master's degree is required to become a certified, licensed speech-language pathologist. Piedmont is finalizing the master's degree program; it is expected to be in place by the time the first class of baccalaureate students is ready to begin graduate studies.
Piedmont is designing the programs to allow students to complete their bachelor's and master's degrees in five years, rather than the typical six.
"We're looking for ways to engage our students in the acquisition of skills and knowledge early on," said Monica Bellon-Harn, director of Communication Sciences and Disorders.
"A good example of this: We are looking for opportunities to create 'stackable' courses, which would allow students to begin earning graduate credits toward the end of their undergraduate coursework."
Throughout their time at Piedmont, Communication Sciences & Disorders students will practice their emerging skills at a clinic being created at Piedmont's Demorest campus. At the clinic, area residents will receive assessments and treatments, while students gain real-life learning experiences. The clinic will also allow students to begin earning clinical hours that can be applied to their graduate degrees while still at the undergraduate level — another way Piedmont will streamline their experience.
The clinic is planned to open in 2023 and offer services in select scope of practice areas.
In addition to the clinic, Harn said, students will benefit from close relationships with both their instructors and area practitioners.
"The difference between the program we're building here at Piedmont and other programs is philosophical. Students will receive personal attention and mentorship. They will engage in active learning opportunities and guided observations, all while being supported by our instructors," Harn said.
"Our graduates will be compassionate service providers who deliver the highest quality of care and who are always seeking new knowledge to better serve their patients. We're building something truly unique here at Piedmont."
For all these reasons and more, Elberton, Ga.-native Ashlyn Boswell became one of the program's first enrollees.
"I've always heard great things about Piedmont," she said. "I'm really excited to have the Piedmont experience and to start preparing for my career."
Learn more about Piedmont's Communication Sciences and Disorders program.