Back to news
Piedmont Camerata to Perform Free Concert on Aug. 22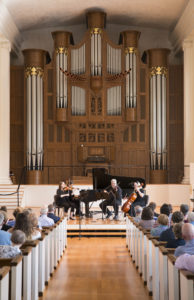 Piedmont University's artists-in-residence chamber ensemble, Piedmont Camerata, will present a free concert at 4 p.m. on Aug. 22 at the Chapel on the Demorest campus.
The ensemble includes Heather Baird-Strachan, violin; Rachael Fischer, violin; Scott Garrett, viola; Ismail Akbar, cello; and Jeri-Mae G. Astolfi, piano. The performance will also include Dean of Libraries and College Librarian Bob Glass as commentator and host.

The concert will feature chamber music masterpieces by Johannes Brahms, Franz Schubert, Antonín Dvorák, Nikolai Medtner, and Florence Price.
The Chapel, adjacent to the Conservatory of Music, is located at 922 Central Ave. in Demorest. Unvaccinated attendees will be required to wear masks. More information about Piedmont's COVID response.
More than 200 students — about 15 percent of the university's undergraduate population —participate in academic music programs, ensembles, and performances. The Conservatory of Music is an All-Steinway School.