Back to news
Piedmont University Chorale Reopens to Community Participation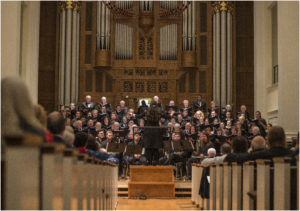 Students, employees, and community members are once again invited to participate in the Piedmont University Chorale.
"While the Chorale continued to rehearse and perform during the 2020-21 academic year, because of the pandemic we could not allow community members to participate. We have missed the community members who bring so much talent to this 100-plus voice choral group, and we're excited to welcome them back," said Chorale Director Bobby Ivey.
The Chorale rehearses on Mondays from 6 to 8 p.m. at Piedmont University's Concert Hall, located at the Demorest Campus, 1021 Central Ave.
The first rehearsal will take place Aug. 16. All interested community members are invited to sing.
The resumption of community participation is especially exciting for Ivey, who joined Piedmont in Aug. 2020, amid COVID restrictions. In addition to directing the Chorale, Ivey is Piedmont's fine arts facilitator and associate director of choirs.
Ivey lived in Habersham County for 37 years and previously taught at Habersham Central High School, where he served as choral director for 25 years. His choral groups often performed with the Piedmont Chorale during the annual Service of Lessons and Carols concert. Prior to joining Piedmont, Ivey was an assistant professor of music education and director of choral activities at Brenau University.
Ivey is thrilled to now be directing the Piedmont Chorale and working with Wallace Hinson, director of Piedmont University's Conservatory of Music. 
"I feel very honored and privileged to work with Dr. Hinson, who has been a great friend and music colleague through the years. I'm extremely excited to welcome back our talented community members to the Piedmont Chorale and look forward to preparing for the 33rd annual Service of Lessons and Carols," Ivey said.
For more information about joining the Chorale, please email Ivey at rivey@piedmont.edu or call 800-277-7020.