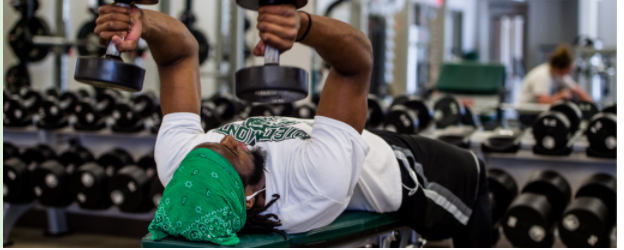 The Demorest campus Fitness Center is located in the Student Commons! Make walking to the fitness center a part of your warm up!
We are excited to be in the Student Commons, which is complete with a rock-climbing wall and indoor gym. Please see the schedule below for fitness center hours. Class offerings and activities as well as time of class, and instructors are subject to change. If you would like a class time or type you don't see, please suggest it, and we will do our best to accommodate you. All instructors have been certified in group instruction and CPR. In addition, the staff of the FC can now offer the Piedmont Community the following classes including, but not limited to: HIIT, Yoga, Abs, and Cardio. We are able to expand the fitness class schedule to include morning, lunch, and late-evening classes to offer a group experience for those who may need a break from studies or encouragement in starting a fitness program.
Scanning in with the Piedmont App is required for admittance to the Fitness Center at ALL TIMES! Thank you for your cooperation.
Important Documents
Fitness Center Regular Hours (Demorest)
Monday — Friday 6 AM – 11 PM
Saturday — Sunday 11 AM – 11 PM
All new students to Piedmont University must complete and print out registration for the fitness center (found online) or complete registration in the fitness center and show Piedmont University ID. WELCOME LIONS!

Fitness/Group Classes Available
Fitness classes will be offered in the Fall.
Facility Rules
Only current faculty, staff, and students are allowed to use the Fitness Center and Lion's Den
Everyone must scan in using the Piedmont App when using the facility
Be courteous to other participants
Return weights and accessories to racks after you are finished with them
DO NOT DROP THE WEIGHTS – If you can't put it down with control, please lower the weight
Sanitize your machines after use
Please use a spotter when lifting
NO FOOD OR DRINKS ALLOWED IN FITNESS CENTER, GYM, ROCK WALL CARDIO DECK OR LION'S DEN except water
Wear shoes inside the Fitness Center, Gym, Rock wall, and Lion's Den
NO PROFANE, DEROGATORY, OR LOUD MUSIC
NO WEIGHTS ON TRACK
If you used it, put it back (EX: benches, mats, boxes)
Any misuse of facilities can result in loss of privilege
Intramurals
Intramurals are recreational sports, such as volleyball, powder puff football and dodgeball for all students on campus. Each semester, dozens of tournaments are planned for students. Sign-ups for Intramurals always at the Lion's Den. Schedule and communication will be through IMLeagues, which is an online program. The Student Commons features a racquetball court, full-size basketball court, and an indoor track along with a rock-climbing wall!
Lion's Den Rentals
At the Lion's Den, we have lots of different items you can rent. From tents to board games, we have it all!
To check out wellness equipment, present your Piedmont College I.D. card at the Lion's Den desk in the Commons. All equipment is signed out and returned at the Lion's Den the same day. All camping equipment must be returned 72 hours after check out.
FRISBEE
KAN JAM
SPIKEBALL
FOOTBALL
CORNHOLE
AIR PUMPS
VOLLEYBALL
BASKETBALL
TENNIS BALL
DODGEBALLS
POUND STICKS
SPEED LADDER
RACQUETBALLS
BOXING GLOVES
INDOOR SOCCER
TENNIS RACQUET
OUTDOOR SOCCER
TARPS
TENTS
GRILLS
SLACKLINE
HAMMOCKS
CLIMBING SHOES
HIKING BACKPACKS
CLIMBING HARNESSES
UNO
JENGA
CHESS
PUZZLES
TWISTER
YATZHEE
TROUBLE
PHASE 10
HOT SHOT
SCRABBLE
CHECKERS
MONOPOLY
TIC TAC TOE
HORSE SHOES
PLAYING CARDS
APPLES TO APPLES

Campus Recreation and Wellness
There is no shortage of activities and events for all!
If you have any other questions, please reach out to Zac Moore (zmoore@piedmont.edu)!