Homecoming
Oct 23rd, 2021 12:00 am - 11:59 pm
Demorest Campus, 1021 Central Avenue, Demorest, Georgia 30535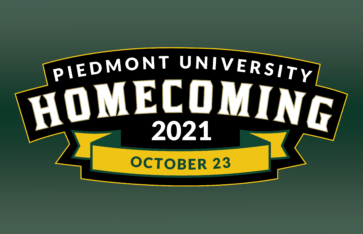 Join us for an exciting day of activities!
Register for FREE tickets at https://alumni.piedmont.edu/e/homecoming
Friday
Alumni event at Temperance Public House– 7:00 – 9:00 pm
551 Georgia St, Demorest, GA
Join us for drinks and appetizers at this popular spot near campus.
Saturday
Alumni Association Board meeting – Student Commons Room C (upstairs) – 8:45 am – 9:45 am
Meet your Alumni Association Board of Directors and learn how they support the mission of Piedmont University.
Alumni Association Awards – Alumni Circle on Quad – 10:00 am – 11:30 am
Celebrate the amazing achievements of Piedmont alumni whose outstanding achievements contribute to their profession, community, and the greater world, as well as athletes, whose accomplishments in their sport will forever be remembered at Piedmont.
Class Reunions – President's House on the Quad– 11:00 am – 5:00 pm
Visit with your classmates in an informal setting at the President's House. Enjoy an open hospitality suite with complimentary snacks and beverages for the classes of 1970 -71, 1980-81, 1995-96, 2000-01, 2010-11 and 2015-16.
Concerts – Arrendale Amphitheater – 12:00 pm – 5:00 pm
359 College Drive, Demorest
Join us for the biggest party event on Piedmont's campus! Enjoy food trucks and vendors, sample free Springer Mountain Farms chicken, and visit our beer & wine garden by Temperance Public House.
At 1pm, the Ivan Duke band will take the stage with their Southern rock and country sounds.
At 3pm, Atlanta Rhythm Section, known for such hits as "Imaginary Lover" and "Spooky" will take the stage.
The concert is free; however, capacity is limited to 750 persons. Seating is first-come, first-served.
Leroy Young Retrospective – 5:00 pm to 7:00 pm
Mason-Scharfenstein Museum of Art – 567 Georgia St, Demorest, GA
Join us for this special exhibition in memory of Leroy Young, a beloved Piedmont professor.