Back to news
The Northeast Georgian: Rare Coins found in Piedmont's Secret Safe
This story appeared in the Feb. 8 edition of The Northeast Georgian.
By John Dills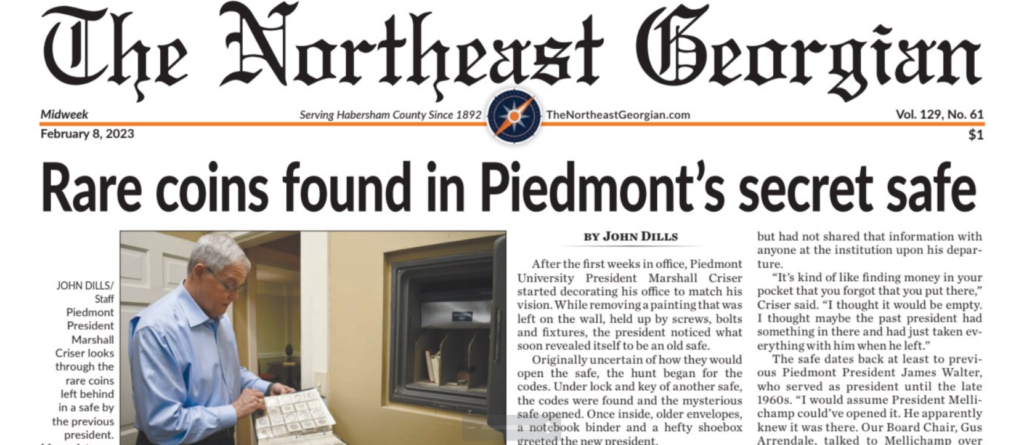 After the first weeks in office, Piedmont University President Marshall Criser started decorating his office to match his vision. While removing a painting that was left on the wall, held up by screws, bolts and fixtures, the president noticed what soon revealed itself to be an old safe.
Originally uncertain of how they would open the safe, the hunt began for the codes. Under lock and key of another safe, the codes were found and the mysterious safe opened. Once inside, older envelopes, a notebook binder and a hefty shoebox greeted the new president.
According to Criser, the previous president, James Mellichamp, knew of the safe but had not shared that information with anyone at the institution upon his departure.
"It's kind of like finding money in your pocket that you forgot that you put there," Criser said. "I thought it would be empty. I thought maybe the past president had something in there and had just taken everything with him when he left."
The safe dates back at least to previous Piedmont President James Walter, who served as president until the late 1960s. "I would assume President Mellichamp could've opened it. He apparently knew it was there. Our Board Chair, Gus Arrendale, talked to Mellichamp over the weekend," Criser said.
According to Criser, Mellichamp had known of a previous president to store a handgun in the safe "before there were policies like there are now."
"I can safely say there are no other safes in the office," Criser said after previously searching behind other paintings.
The safe contains coins dating back to the 1790s, 1800s and from multiple countries like Mexico. According to a donation record from 1980, coins donated to the university equal to $16,680. Adjusted for inflation, that would be $59,241.33 without accounting for appreciation in value.
Piedmont University is looking for community members to help them in the hunt for the stories of the coins or information about the coins. Contact Craig Rogers, Vice President of University Advancement, at crogers@piedmont.edu or 706-778-8500 (x1148) with any information.FacebookTwitter