Back to news
Piedmont University Recruiting Students, Community Members for First-Ever Startup Competition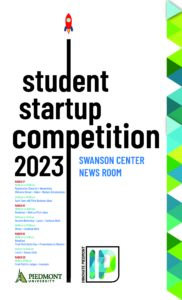 Piedmont University will host its inaugural Student Startup Competition March 17-20 at the Demorest campus.
"Think 'Shark Tank,'" said Art Department Chair Santanu Majumdar, who is organizing the competition, along with representatives from the Walker College of Business, College of Arts and Sciences, and University Advancement, referring to the popular reality TV show in which entrepreneurs pitch their business ideas to a panel of investors.
"This is going to be a fun, fast-paced, exciting weekend during which students will network with one another and local professionals, pitch their business proposals, build their resumes, and gain valuable feedback that will help launch their ideas into the next phase of development."
The Startup Competition schedule includes:
March 17, 5-7 p.m. — Networking, Welcome Dinner, Mentor Introductions — Students will have the chance to form teams, brainstorm ideas, and mingle with competition mentors. Majumdar is currently recruiting mentors, who will work with students during the course of the competition to refine their startup ideas.
March 18, 8 a.m.-7 p.m. — During the second day of the competition, students will work with mentors to finalize their startup pitches.
March 19, 8 a.m.-noon — Students will work with mentors to finalize their pitch presentations.
March 20, 5 p.m. — Students will make their final pitches to a panel of judges.
The winning Piedmont team may go on to compete at state-level startup competitions.
Community members and alumni interested in serving as a mentor or judge should contact Majumdar at smajumdar@piedmont.edu. Mentors and judges should have a business background.
Students may also contact Majumdar for more information.