Back to news
'Partners, Not Parties': Piedmont University, City of Demorest Settle Water Dispute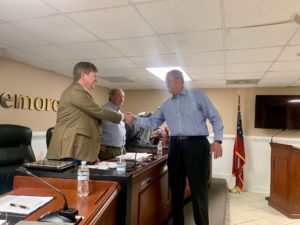 It's a new chapter for Piedmont University and the City of Demorest following Tuesday night's city council meeting.
Council members voted unanimously to settle ongoing litigation with Piedmont University over water and sewer rates. Piedmont filed suit against the city in 2020, claiming the rates the city imposed were fraudulent. Per the settlement, the city will pay the university $70,000.
Demorest Mayor and Piedmont University alumnus Jerry Harkness said the settlement is a new beginning for all involved.
"I'm glad to have this lawsuit settled and behind us, and I'm ready for us to move forward together in a positive direction," he said.
Piedmont University President Marshall Criser, who attended Tuesday's meeting with his wife, Kimberly, said the university and city can now proceed as "partners, not parties."
The vote to settle the litigation was met with applause from both council members and residents in attendance.