Back to news
With Her Graduate Degree from Piedmont University, Rebecca Deurlein Has Run a Business, Written a Book, and Is Now Traveling the World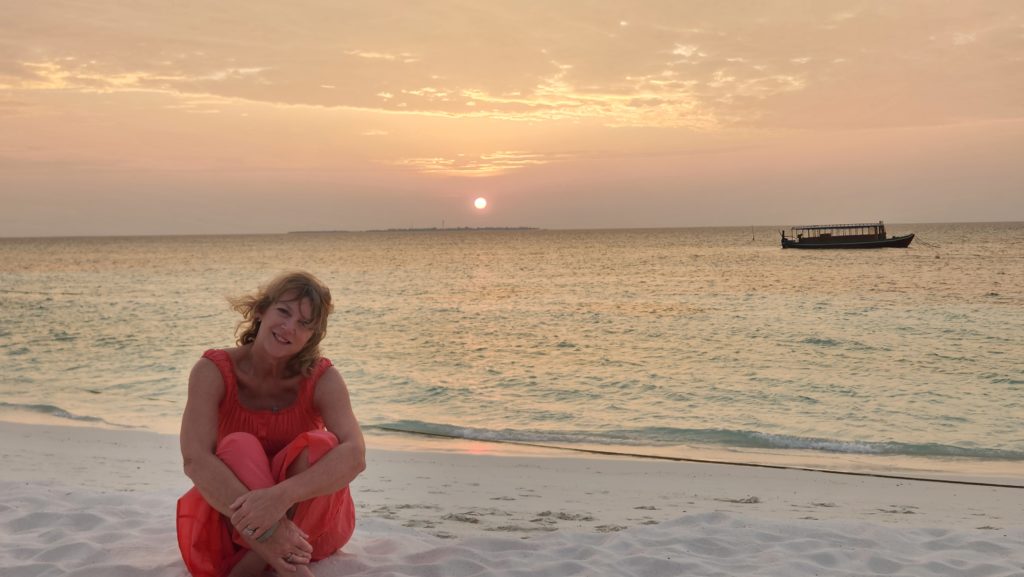 Rebecca Deurlein '02 has been a teacher, a school administrator, an author, a business owner, and now a travel writer who just returned from her favorite destination yet: the Maldives.
Through each chapter of her career, she's found new ways to use her Master of Arts in Education degree, from leading her own classroom, to helping parents better understand their teenagers, to teaching others the wonders of foreign countries.
"Education is an investment in your future, and my investment has definitely paid off," said Deurlein, who now resides in Sugar Land, Texas.
Deurlein recently took time from her busy travel schedule to share what she's been up to since graduating — and how she still uses her Piedmont degree every day.
Teacher and School Administrator
A native of Pennsylvania, Deurlein began substitute teaching while raising her two children, discovering along the way her passion for education. She went back to school to earn her teacher certification and spent two decades teaching English and journalism to high school students in Atlanta, Chicago, and Houston.
In her mid-30s, she enrolled in Piedmont's master's program, with her eyes set on school administration.
"It worked out great because Piedmont is very focused on developing leadership skills," she said.
Her Piedmont degree, and the doctorate she later earned from the University of Phoenix, set her up well for the roles that would come: curriculum coordinator and dean at Fort Bend Christian Academy in Houston and head of school at Montessori Kids Universe in Sugarland.
Author
All Deurlein's years working with teenagers made her something of an expert on the age group.
"What I love most about teenagers is that they're straddling the line between adulthood and childhood — and they embody the best of both," she said. "They can be funny, silly, and crazy, but they can also be super mature and considerate."
Deurlein's career in education provided the basis for her 2014 book, Teenagers 101: What a Top Teacher Wishes You Knew About Helping Your Kid Succeed.
Publishers Weekly said: "Armed with Deurlein's tips, any parent should be able to give his or her teen something much better than another trophy: the self-reliance and work ethic necessary to take the first few steps into adulthood."
In her book, Deurlein explains the biology of the teenage brain — and how it affects teenage behavior.
"Teenagers do not have a fully developed frontal lobe yet. That's why they are more likely to do reckless things, because they do not understand yet the long-range implications of their decisions. That's why they speed or text while driving. They aren't just being difficult; they simply haven't developed the part of their brain they need to make better decisions," Deurlein said.
Deurlein encourages parents to model decision-making and problem-solving strategies— and practice lots of patience.
"We forget that they're still kids. When they're upset, help them walk through what's upsetting them, how they can fix it, the steps they can take to a resolution. That's how they learn to help themselves when we're not around anymore," she said.
"Respect them for who they are, set high expectations, and use tough love. You have to let them fail. That's how they learn to overcome difficulties in life. But always believe in their ability to be successful. When you believe in them, even when you're frustrated, they will feel that from you, and they will grow and mature into the best adult versions of themselves."
Deurlein's book is available on Amazon.
Business Owner
In 2016, Deurlein parlayed her career in education and her expertise in working with teenagers into a business called Teenager Success 101. For five years, she and a team of top educators across the nation helped their teenage clients prepare for tests, acquire study and organizational skills, manage test anxiety and stress, navigate the college admissions process, and explore careers — all while providing a steady stream of encouragement and support.
Deurlein's clients ranged from those who were struggling to graduate high school to those who were on track to attend an Ivy League university.
"Their success was our success," she said.
As the pandemic shuttered schools and cancelled standardized tests, Deurlein wrapped up the work she was doing with her current clients, seeing them through to high school graduation, while planning what would come next in her career.
Her next move, she decided, would take her around the world.
Travel Writer
Even before she was an educator, Deurlein was a writer. She earned her undergraduate degree in communications and saw the world in stories.
"As I phased out Teenage Success 101, I decided that what I really wanted to do was concentrate on writing about the things I enjoy most — traveling, food, and wine," she said.
Deurlein sold her first travel story to a regional magazine — and she's been unstoppable ever since. Her work has been published in international magazines including Travel + Leisure, Atlas Obscura, and Fodor's, to name just a few.
In late January, she traveled to the Maldives for her next piece.
"It was a dream vacation," she said, "one of those once-in-a-lifetime experiences you can't wait to tell others about."
Looking back, Deurlein sees how each phase of her career led to the next, and how her education helped her make each transition successfully.
"Through education, you learn much more than the subject matter — I know I did at Piedmont," she said. "You learn people skills, leadership skills, time management skills. I couldn't work as a freelance writer and have the self-discipline to sit down and write when no one is making me if it weren't for my education."
Learn more about Piedmont's graduate degrees at piedmont.edu/graduate. To keep up with Deurlein's travels, follow her on Instagram and LinkedIn.