Back to news
Meet Jaime Johnson-Huff, Who Becomes Piedmont University's Director of Nursing This Month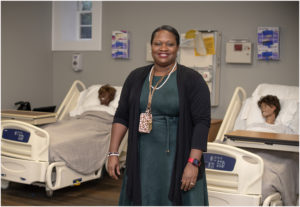 Jaime Johnson-Huff, whose two greatest passions in life are nursing and teaching, will become director of Piedmont University's nursing program effective Dec. 12.  
"Dr. Johnson-Huff has been part of the nursing program at Piedmont for over 15 years. She is a wealth of knowledge, a consummate professional, and a full-hearted educator. She has demonstrated through the years an abiding commitment to our institution and students. We are very excited for what she will bring to this new role," said Vice President for Academic Affairs Dr. Steve Nimmo.
Johnson-Huff said she is excited to get started.
"I am honored to accept this position," she said. "From the moment I stepped foot on campus, I've been in love with Piedmont. This is my home, and I am grateful for the opportunity to continue growing here."
Several of Johnson-Huff's family members — including her favorite aunt — worked in health professions, so she naturally gravitated to nursing. A native of Augusta, Georgia, Johnson-Huff earned her Bachelor of Science in Nursing and Doctor of Nursing Practice from Augusta University; her Master of Science in Nursing is from Georgia State University.
"I remember my family members coming home, and they'd be in their scrubs, and they would talk about their patients. It intrigued me, and I always enjoyed science," Johnson-Huff said.
"Once I got into nursing, I realized how much it fits my personality. I'm a people person. I love helping."
However, Johnson-Huff would soon realize that as much as she is a nurse, she is also a teacher.
"When you think of teaching, you think of one person having all the knowledge and delivering it, but what happens with my students is we learn together. There are things I can show them. There are things they can share with me. It's reciprocal learning. It broadens my perspective," Johnson-Huff said.
"I was always the first nurse to raise my hand and work with nursing students. I just love it. Teaching and being a nurse, for me, that's the best of both worlds."
Pursuing her interest in teaching, Johnson-Huff worked at Athens Technical College before joining the faculty at Piedmont in 2007.
In her new role, Johnson-Huff said she will aim to build connections between nursing students at the Athens and Demorest campuses, as well as connections between nursing students and students in Piedmont's other health sciences programs, including athletic training, communication sciences and disorders, exercise and sport science, and health and human performance.
"We're all a family," Johnson-Huff said.
"We have beautiful labs in both Athens and Demorest. They both belong to all our students. I want to see more students traveling between the campuses to learn from one another and take advantage of our facilities. Likewise, between disciplines, I want to encourage knowledge sharing. Quality healthcare depends on interprofessional collaboration, and we can instill that at Piedmont by bringing health sciences students from various disciplines together, so they can learn and work alongside one another."
Johnson-Huff and her colleagues in the College of Nursing & Health Sciences are already collaborating on two significant projects. Next spring, Piedmont will be one of 12 schools in the nation to take part in FEMA's emergency management training. Piedmont has participated before, but this will be the first time that students from across the College of Nursing & Health Sciences have been included. Additionally, the college's senior seminar had previously been open only to nursing students. This year, it is open to health sciences students as well.
"We're building bonds, building relationships," Johnson-Huff said.
"This will enrich the student experience and, ultimately, enrich our students' practice. When they see what others can bring to the table, when they learn from others' perspectives, when they exchange information, it broadens their horizons, makes them more resourceful, and improves the level of care they're able to deliver."
The ability to get personal, and make a student-by-student impact, is what drew Johnson-Huff to Piedmont — and it's why she's chosen to stay.
"When I was in college, I was often one of more than a hundred students in a class. I was just a name on the roll," Johnson-Huff said.
"At Piedmont, we know our students. Everything is focused on the students. We make connections. We treat them with understanding and compassion. We treat them as family, and we give them our best. When they leave us, they're prepared to do the same for their patients."
The job placement rate for graduates of Piedmont's nursing program exceeds 99 percent. Learn more at piedmont.edu/nursing.