Back to news
Piedmont University Names Former Florida University System Chancellor Marshall Criser as Next President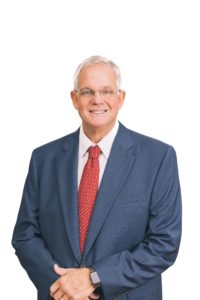 Piedmont University has named Marshall Criser, former chancellor of Florida's university system, as its next president.
The announcement comes after a broad-based search that began after Dr. James F. Mellichamp, who has served as president for the last 10 years, announced his retirement in June.
"We are really excited about Marshall Criser as our new president. He is innovative, smart, and brings a long list of accomplishments as a university and corporate leader. He has worked with faculty members and community and political leaders to lead Florida's higher education system to a No. 1 ranking in the nation. He's committed to student success, and he's got roots in our region. We are excited about him bringing all his skills, energy, and passion for students to Piedmont," said Board Chairman Gus Arrendale.
"We also heard that he is very effective at bringing people together, and he is respected and trusted by all. He loves outreach to the community, engagement with everyone on campus, and he is chomping at the bit to get going."
Other members of the Board commented on his thoughtfulness, respect for all members of the community, strategic mindset, sense of humor, personal values, attention to detail, and calming presence.
According to a university president in Florida, "Marshall has been a highly effective chancellor and is universally admired as a leader and admired personally by all the Florida State University System presidents. He works effectively with the faculty senates and student governments across all the universities, as well as with the provosts, student life vice presidents, CFOs, Boards of Trustees, and, obviously, the overarching Board of Governors."
Criser recently stepped down as chancellor of the State University System of Florida, a post he held for eight years. As chancellor, he served on the Florida Talent Development Council and the Credential Review Committee. He currently serves as a member of the Florida Council of 100, where he is a former chair. He is also a member of the Enterprise Florida Board, the Florida Chamber of Commerce Board of Directors, co-chair of the Florida Chamber of Commerce Past Chairs Council, and the Florida Chamber 2025 Strategic Planning Committee.
He is also a former president of AT&T Florida.
Criser graduated from the University of Florida with a degree in business administration and completed the Advanced Management Programme at INSEAD in Fontainebleau, France.
Criser and his wife, Kimberly Robbins Criser, have been married for more than 40 years. Kimberly is a graduate of Florida State University with a degree in economics. She currently serves on the UF Health Leadership Council for Pediatrics and the board of Opening Nights, an annual series of cultural and performing arts events in Tallahassee, Florida. They share four daughters, three sons-in-law, one son-in-law to be, and four grandchildren.
Criser's start date is Jan. 1, 2023.
About Piedmont University:
Piedmont University is a private, comprehensive liberal arts institution founded in 1897. Piedmont's 300-acre residential campus is located in Demorest, Georgia, amid the Appalachian Foothills. A satellite campus located in the heart of Athens, Georgia, primarily serves adult learners. Piedmont offers approximately 80 programs of study, including bachelor's, master's, doctoral, and education specialist degrees, all while ensuring a personalized educational experience designed to prepare students for higher levels of study, the workforce, and life. Piedmont has been named Georgia's top private college (James Magazine, 2021), one of the state's best returns on investment (Georgetown University, 2022), and the Safest Campus in Georgia (Niche, 2022). Learn more about Piedmont at piedmont.edu.