Back to news
Students: Apply Now to Participate in 2023 Piedmont Symposium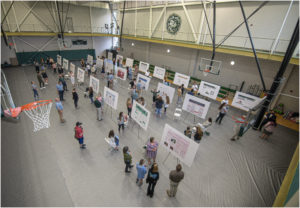 Applications are now being accepted for the fifth-annual Piedmont Symposium, the university's annual celebration of student research and creative inquiry.
"The symposium is a highlight of the year at Piedmont University. It's a chance for students to share their academic achievements and endeavors. They also gain valuable skills as they prepare and deliver their presentations, answer questions, and interact with judges," said Associate Biology Professor Dr. Julia Schmitz, who oversees the symposium.
"For attendees, it's a chance to see firsthand the truly impressive work our students are doing in fields as diverse as biology and art, music and forensics. You will be blown away."
During the symposium, students present their research at locations across the Demorest and Athens campuses. The topics of previous presentations have included ethical stock trading practices, gaming, virtual learning, and the differences in salary, media attention, and amenities based on gender in sports.
The symposium was one of several high-impact practices at Piedmont that were recently highlighted in a Chronicle of Higher Education publication.
The symposium will take place April 12. The deadline to apply to participate is Feb. 15. The application can be found here: Piedmont Symposium – 2023 (wufoo.com)
For more information on the symposium, contact Schmitz at jschmitz@piedmont.edu.