Back to news
Piedmont University Student Has Two Films Accepted to England-Based Festival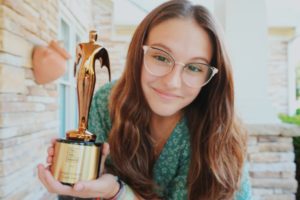 Piedmont University's first film production major has had two films accepted to an England-based film festival.
"It's exciting, and it means a lot to me," said Megan Schaefer, who lives in Flowery Branch. "I came to Piedmont never having picked up a camera for film, and now my films are being selected for a film festival."
Buckinghamshire, England-based Pinewood Studios created the Lift-Off film festival, which has grown into the Lift-Off Global Network, an organization encompassing worldwide screening events, distribution initiatives, a seasonal awards ceremony, and an active network of independent film creators.
Lift-Off notified Schaefer last month that it had accepted two of her films: "Anxiety," about Schaefer's personal battle with anxiety, and "Todd's Story," about the effects a medical condition has had on her father's mental health. "Todd's Story" received a Bronze Telly Award in the General Nonbroadcast category earlier this year. The Telly Awards were founded in 1979 and honor excellence in television and video.
"I'm thrilled by her initial success and believe she will continue winning in the future," said Associate Professor of Mass Communications Melissa Jackson.
Schaefer intends to pursue a career as a cinematographer or director.
Learn more about Piedmont University's film production program at piedmont.edu/film.