Back to news
Pro Musica Orchestra, One of Two New Piedmont University Musical Ensembles, Makes Its Debut Sept. 23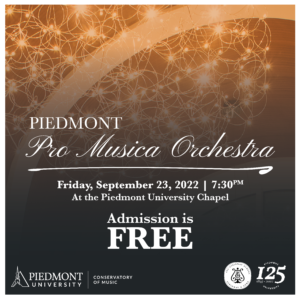 The Pro Musica Orchestra, one of two new Piedmont University musical ensembles, will make its debut this Friday, Sept. 23, with a free concert at 7:30 p.m. at the Chapel on the Demorest campus, 992 Central Ave.
Pro Musica is comprised of more than 30 professional musicians, including several Piedmont University faculty members.
"These are some of the very best musicians in the southeast," said Dr. Wallace Hinson, director of the Conservatory of Music and Associate Dean of the School of Fine Arts and Communications.
"Some of them are new to Piedmont, some have performed here for many years. Together, they create one-of-a-kind musical experience for our attendees."
Among the members of Pro Musica: Heather Baird-Strachan, music director for the Piedmont Conservatory Strings, Anand Sukumaran, assistant professor of music and director of the Wind Ensemble, and Dianasue Walton, director of the Instrumental Chamber Ensembles.
For its first performance, Pro Musica will present a collection of music "that is for and by the Czech people," Hinson said.
"My wife and I have been traveling to the Czech Republic for almost 20 years now, and I've fallen in love with the country, the capitol city of Prague, and Czech music," said Hinson.
"This concert is a chance for the audience to hear an extremely varied program by three very important composers."
The program includes Mozart's Symphony No. 38, which debuted in Prague in 1787 and is popularly known as the "Prague Symphony," Bohuslav Martinů's Toccata e due canzoni, andAntonin Dvořák's Czech Suite.
"These are three rarely heard pieces of great music," Hinson said. "This concert will be a unique and memorable experience for all who attend."
The Pro Musica Orchestra concert is free and open to the public. For more information, see the 2022-23 Piedmont University Fine Arts calendar available at piedmont.edu/fa.
In the spring, the Pro Musica Choir, an ensemble comprised of primarily Piedmont University alumni who've gone on to become professional musicians, will make its debut.
"There are 35 musicians in this group, and all but a few are alumni," Hinson said.
"They reach all the way back to the Class of 1999. They're alumni from all walks of life who are eager to recreate the performance experiences they had while studying here at Piedmont."
Pro Musica Choir members are now scattered throughout the country, but will travel to Demorest for three intense, weekend-long rehearsals in October and January, before their debut performance at 7:30 p.m. on March 21 at the Chapel on the Demorest campus. That performance will also include the Piedmont University Singers and the Piedmont Pro Musica Orchestra.
"The Pro Musica Choir is one of the few ensembles of its kind in Georgia," Hinson said.
"They're all jazzed about returning to Piedmont and singing for audiences at their alma mater once again."
The Pro Musica Choir performance will also be free and open to the public.
Both the Pro Musica Orchestra and Choir are made possible through the support of Piedmont University's Friends of the Arts.
For more information on Piedmont University's Fine Arts events and academic programs, visit piedmont.edu/fa.