Back to news
Two-Time Piedmont Music Alumnus Uses Life Lessons — and Recent Deafness — to Inspire Others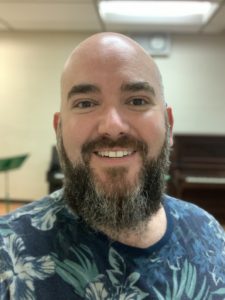 In his work as a voice teacher at Chicago's Whitney M. Young Magnet High School — alma mater of former first lady Michelle Obama — two-time Piedmont University alumnus Micah Dingler strives to impart an important lesson to his students: They are capable of much more than they might think, no matter where they come from or what difficulties they may face.
It's a lesson Dingler learned for himself while studying at Piedmont, and again in 2018, when he suddenly became half deaf.
"Piedmont was the springboard to my life now. It prepared me to do so much more than I ever thought possible," said Dingler, who earned a master's degree from Northwestern University and performs with the Chicago Symphony Orchestra Chorus and The Crossing, a Philadelphia-based professional chamber choir.
Growing up in Stephens County, Dingler loved music and figured he would grow up to become a high school chorus teacher, either in his hometown or somewhere nearby. He couldn't envision himself living — or doing — anything beyond what he'd known his whole life.
When it came time to apply to colleges, Dingler submitted two applications: one to the University of Georgia and one to Piedmont. He was accepted to both institutions, with scholarship assistance.
He chose Piedmont. It's a decision he's been grateful for ever since.
"It was at Piedmont that I started to realize that the life I'd always lived was not the life I was going to have. Piedmont allowed me to start dreaming of bigger things," he said.
Dingler earned his Bachelor of Arts in Voice Performance in 2005 and his Master of Arts in Teaching in Music Education in 2006.
During his five years at Piedmont, Dingler thrived and forged relationships with faculty members that endure to this day. He learned about himself, and while traveling with the Piedmont Singers, discovered the world beyond Northeast Georgia.
"We went on tour to Miami and Chicago, which is when I started to fall in love with the city," he said. "I was able to see all these parts of the country that I'd never seen before."
In 2007, Associate Dean of the School of Fine Arts Dr. Wallace Hinson helped Dingler land a performance in Italy with The Crossing, which began Dingler's career with the Grammy Award-winning ensemble.
The many experiences he had while at Piedmont, and the confidence he gained along the way, inspired Dingler to apply to Northwestern University, where he earned a Master of Music in Voice and Opera in 2009.
"Looking back, I can see that I didn't dream big enough for my life until I got to Piedmont. Today, I teach at one of the most diverse high schools in the country. I'm a tenured performer with the Chicago Symphony Orchestra Chorus, one of the largest paid symphonic choirs in America, and I perform with The Crossing, which is my passion project, my baby," he said.
"I'm living a life that at one time I couldn't even imagine."
Dingler's career is even more remarkable given the ordeal he experienced in 2018. It was the day before Thanksgiving, and Dingler woke up completely deaf in his left ear. He spent months visiting doctors and dealing with insurance issues — and wondering if his time in music was over.
"It was a very depressing time," he said.
In 2019, Dingler received a cochlear implant that allows him to hear — and perform — as well as he did before he lost his hearing. Random fact: The implant is Bluetooth-enabled, allowing Dingler to listen to music or watch TV without disturbing anyone around him.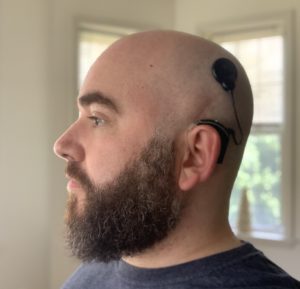 Rather than ending his career, going deaf has opened up new possibilities for Dingler's future.
"I'm starting to learn American Sign Language, and I'm making connections with people I might never have met or talked to before, people who are involved with music and have also experienced hearing loss," Dingler said.
"It's still new, but it's given me a whole new way of looking at what I do — and what I might do with music going forward."
His work as a now half-deaf performer and teacher is the latest chapter in a life he never saw coming until he enrolled at Piedmont.
"Piedmont changed the course of where I was going," he said. "I can't wait to see what comes next."
Learn more about Piedmont's Music and other Fine Arts programs at piedmont.edu/fa.