Back to news
Piedmont University Climbs in U.S. News & World Report's Rankings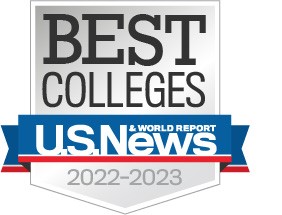 Piedmont University climbed nine spots on U.S. News & World Report's list of top regional universities, ranking at No. 44, compared to No. 53 in 2021.
"This ranking is reflective of Piedmont's commitment to delivering an exceptional educational experience while staying true to our founding mission of ensuring educational access through competitive pricing," said President James F. Mellichamp.
"In August, we welcomed the largest freshman class in this institution's history. I think it's safe to say that families — and U.S. News & World Report — are taking notice of all that Piedmont has to offer."
The U.S. News rankings examine a variety of factors, including tuition, class size, and selectivity. The magazine also groups colleges by the types of degrees offered. Regional universities, including Piedmont, offer undergraduate and graduate programs, including doctoral degrees.
U.S. News' South Region includes 12 states.
In the rankings released Sept. 12, Piedmont also climbed from No. 31 to No. 20 on the list of "Best Value Schools" among schools in the South Region. Earlier this year, a Georgetown University study ranked Piedmont as one of the top-five best returns on investment among all of the state's private, nonprofit educational institutions.
Learn more about Piedmont University at piedmont.edu.