Back to news
Mom of Three College Graduates Encourages Parents to Join Family Council
When Garrett Smith walked across the stage on the Piedmont University Demorest campus on May 6, his mother, Monya, saw her youngest son graduate. He did it in four years. The oldest Smith son had done it in five years, the middle one in four and a half.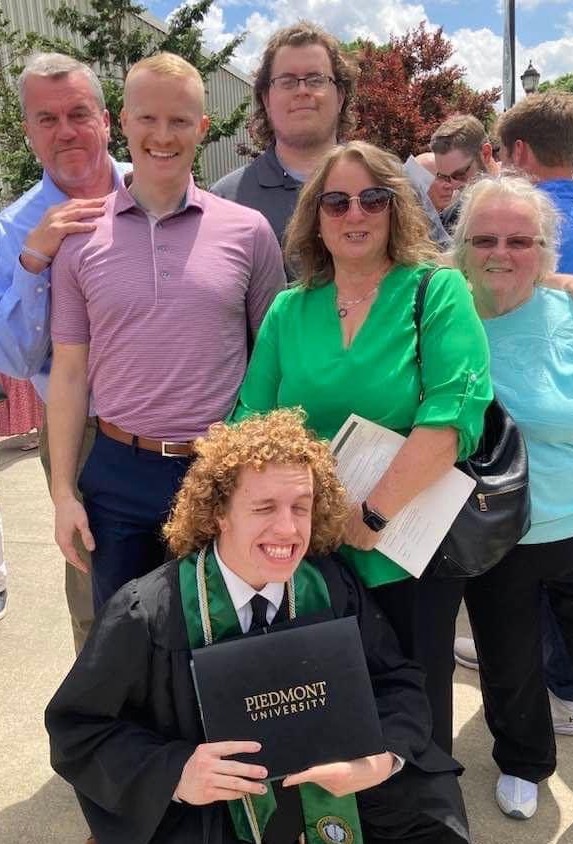 Monya knows the process of getting a child into college, successfully navigating the transition from high school, and keeping a student on track to graduate.
"Each has done it his own way. I still am somewhat of a helicopter mom, but I also know my kids' personalities," Monya said. "I have learned so much more over the years but let them do as much as possible. If they need help, just be there. Be a little nosy but be there."
As a charter member of Piedmont University's Family Council, she has shared her knowledge at summer orientation events and offered help and advice to parents and families on freshman move-in day.
Because the council was new in 2020, Monya said she didn't have preconceived expectations when she joined, but she was ready to help. She liked that the council brought people together for one purpose — student success — and that everyone was pulling in the same direction.
"It was another way to stay involved and to have your voice heard," she said. "You have a consensus, people thinking alike and answering questions, so you aren't bothering the professors every day. You have one central place to go to get information instead of fumbling at it yourself."
She encourages parents to join the council, if only for one activity.
"Do something so you can get to know people. Find a way in," she said. "It is still new and growing, and every day is better."
She also suggests families follow Piedmont University's social media accounts. She has found the private Facebook group for families of Piedmont students to be particularly helpful. (To find it, search for Piedmont University Parents & Families on Facebook.)
"Before you call, before you ask anybody, get on there and scroll back. You can find all kinds of stuff, and if you can't, just put it out there and someone will answer you," she said.
She knows one thing for sure: Piedmont was the right school for Garrett.
"He needed a small school that's tight-knit, where students are there for each other," she said. "The professors, the smaller class sizes even for his general studies – I don't think he would have been nearly as successful at a bigger school than he was here."
Garrett also picked the right major: Theatre Arts. He had known all along that he wanted to be in theatre. He landed leading roles in play after play at Piedmont, but he competed for every one of them. Nothing was a given.
Monya said he "might have been a shining star," but only because his light reflected off other students, and theirs bounced back to him. All of his performances — and they were not all theatre productions — are special memories for her.
"He was required to be in Chorale and [Piedmont] Singers. When he came in from high school, you could hear him over everybody," she said. "He learned to be a part of that group. I can still pick out his voice, but to hear how he has developed under Dr. Wallace Hinson (music professor Dean of the School of Fine Arts) is phenomenal. He has extra skills now."
Not all students are so sure about which major to choose, and even Garrett explored a bit before making his final decision. Monya gave her sons time to decide.
"Let them explore. Let them find out who they are," she said. "If college is for them, let them figure it out."
For more information about family involvement, visit piedmont.edu/parents. To join or learn more about the Family Council, contact Terrie Ellerbee, parent communications specialist, tellerbee@piedmont.edu.