Back to news
Piedmont University Students Add to Telly Award Collection
Piedmont University students continue to rack up awards for video production. They recently received two bronze Telly awards, which honor excellence in video and television.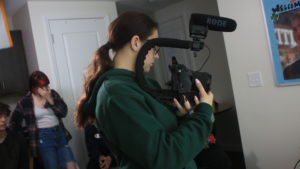 One Telly went to Megan Schaefer (Flowery Branch, Georgia) for her video, Todd's Story, about her father's bout with depression. She produced, shot, and edited the piece as part of her final project for the Video Production 1 course during the fall 2021 semester.
"Winning the award was one of the coolest and biggest moments of my life," said Schaefer, who was a freshman when she created the video. "I wanted to showcase my dad and his struggles."
Schaefer is also Piedmont University's first-ever film production major and hopes to land a job in the industry after she graduates. She chose the major after the loss of a cousin.
"Life is too short not to follow your dreams, so I chose to follow them," Schaefer said.
Melissa Jackson, associate professor of mass communications, said this was the second time a freshman captured a national Telly Award. In 2020, Elizabeth "Lizzy" Carver won a Telly award for a piece she created for the same course titled, The Covid-19 Pandemic: Words to Live By.
Also in 2020, Nathan Blackburn '20 and Cameron Verona '21 brought home a bronze Telly for Quaran-things To Do.
'Overtime' wins again
Congratulations are again in order for Aaron Palmer (Roswell, Georgia), Tyler Goins (Franklin, Georgia), Caleb Rogers (Clarkesville, Georgia), Connor Creedon (Peachtree Corners, Georgia), and alumnus Chris Barker. Their suspenseful narrative feature Overtime, filmed as part of an Entertainment Television class, received yet another honor with a Bronze Telly in the non-broadcast category.
The trailer for Overtime was a Silver Telly winner in 2021. The feature also previously won an Award of Excellence from the Broadcast Education Association.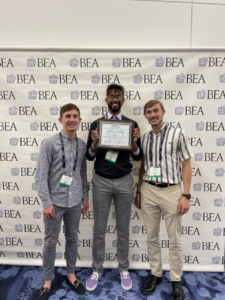 "I'm so grateful to have been a part of an amazing team and also an amazing department with all the support we get from our professors," said Rogers, who will graduate in December with a mass communications degree. "Professor Jackson has been such an amazing mentor to all of us."
"I'm extremely proud of these students' achievements. They've demonstrated creativity, tenacity, and resourcefulness in how they've videotaped and edited these projects on a zero budget," Jackson said.
The Piedmont University students' entries were among more than 12,000 vying for Telly Awards.
"With a number of high-caliber entries submitted, this year's Telly Awards entrants truly represented the most innovative stories being told across all screens," said Sabrina Dridje, Telly Awards executive director, in announcing the winners.
For more information about the new Film Production major at Piedmont University, visit piedmont.edu/program/film-production/.