Back to news
With Faculty's Help, Piedmont University Student Combines Theater, Accounting for a Major That Fits Just Right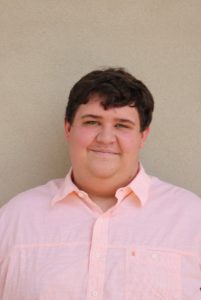 The Piedmont University experience is defined by small class sizes, meaningful relationships between students and faculty, and an environment where students are free to be themselves — and discover who they want to be.
Perhaps no one better embodies what it means to attend Piedmont University than Jonathan Furlow.
"Piedmont is a place where you can make your college experience your own, whatever you want it to be," said Furlow.
"Because of Piedmont, I've been able to find my way and make a plan for my future that is different than I thought it would be, but it's just right for me."
Growing up in Kingsland, Georgia, Furlow was involved with his high school theater program. He's not a performer, but he liked working behind the scenes to make productions come to life.
When he enrolled at Piedmont, he declared education as his major, thinking he would become a drama teacher and eventually return to his alma mater.
"Halfway through my first semester, (Associate Professor of Theatre and Department Chair) Kathy Blandin sat down with me and said, 'I don't think you really want to go into education. I think you want to go into arts administration."
Blandin's words got Furlow thinking, and he soon realized she was spot on.
"I'm not really a kid person," he said.
Blandin explained what she saw in Furlow:
"As we worked together, I noticed that Jonathan excelled at strategic decision-making and had a talent for the business side of theater. I thought Jonathan would be best served by a degree program that combined his love of theater with business. This spring, Jonathan was excitedly sharing the details of an advanced accounting project he was working on with a local business, and it wouldn't surprise me to see him sitting in the CFO's office at one of the nation's major regional theaters one day. Getting to teach theater is why I came to Piedmont but getting to work closely with students to help them discover their path is why I stay at Piedmont."
At Blandin's urging, Furlow connected with Associate Dean of the School of Humanities & Sciences Steve Jacobs, who helped him design an interdisciplinary major combining theater and accounting.
Furlow will graduate in May 2023 with his Bachelor of Arts.
"I fell in love with the accounting courses. I've always enjoyed math," he said.
"The theater forces me to be artistic. With accounting, there are standard math practices. I am combining the ability to be creative and use my imagination with the clear answers that come with accounting."
Jacobs said Furlow's story typifies Piedmont's commitment to delivering personalized education.
"Students exploring who they are and finding the most suitable academic path are key components of the Piedmont experience. Sometimes students such as Jonathan have unique interests for which none of our existing academic programs is the perfect fit," Jacobs said.
"For these students, an interdisciplinary studies major provides the opportunity to design a meaningful, substantive, and personalized program of study to best serve their needs. The specific courses that Jonathan selected for inclusion in his plan will prepare him well to flourish after his time at Piedmont comes to an end. It brings me great joy to help set up students with programs of study that enable them to achieve their educational, vocational, and career goals."
The journey to his customized degree program built Furlow's understanding of himself and his confidence. The more he learned about who he is, the more he liked who he was becoming.
"I'm getting the education that's right for me, and one day, I want to use it to open a theater of my own," he said.
"I would never, ever have said that before coming to Piedmont."
Learn more about Piedmont University at piedmont.edu.