Back to news
Piedmont University to Host "Electrifying" Performance by Acclaimed Pianist Jeri-Mae Astolfi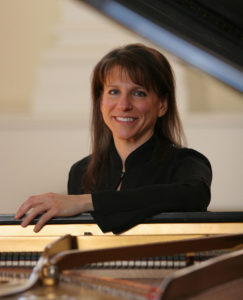 Internationally acclaimed pianist Jeri-Mae G. Astolfi will give a free performance at 4 p.m. on Jan. 30 at the Chapel on Piedmont University's Demorest campus.
Astolfi, a senior artist-in-residence at Piedmont, said the theme of her performance is "fire." Each of the pieces she will play have been influenced in some way by the element.
"I am excited about having the opportunity to share music, in person, that might not otherwise be heard, including music by American composers Edward MacDowell and Amy Beach, and Finnish composer Einojuhani Rautavaara," Astolfi said.
"It's fascinating to hear how composers transform images, in this case images that are fire-inspired, into sound. The music is very evocative and full of variety."
Astolfi will provide brief remarks about the pieces, helping audience members understand her selections and how they fit within the theme of "fire."
"I would describe the program as enlightening, educational, enjoyable — and electrifying."
Astolfi's musical prowess has been described as "brilliant" by New Music Connoisseur and "beautiful" by American Record Guide. MainlyPiano hailed her as a "rare artist who seems as comfortable with traditional classics as she is with experimental music."
Astolfi's talents have garnered her numerous performance and research awards, as well as invitations to regional, national, and international music forums. In addition to her work at Piedmont, she is active with the Georgia Music Teachers Association and PianoArts.
Face coverings will be required at Astolfi's performance.
The Chapel is located at 992 Central Ave. For more information about Piedmont's Fine Arts events and programs, visit www.piedmont.edu/about-piedmont/fine-arts-piedmont