Back to news
Five Questions with Zac Moore: How Safe Zone Training is Creating a More Inclusive Piedmont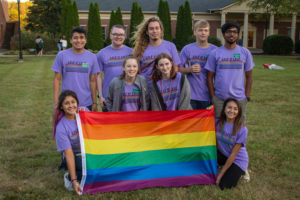 Three years ago, Piedmont University implemented Safe Zone training for faculty and staff members. Since then, the training — offered through the Safe Zone Project to raise awareness of LGBTQ issues and create inclusive college environments— has been expanded, spurred campus events, and received positive feedback from current and prospective students alike.
Director of Student Life & Leadership Zac Moore heads Piedmont's Safe Zone committee.
Here, Moore shares more about the training he helped bring to Piedmont and the impact it's made on the Piedmont community.
Why did you think Safe Zone training was something Piedmont should offer?
I went through this training as an undergraduate and graduate student, and it's taken off at a lot of institutions. The training focuses on LGBTQ awareness, but I've seen how this training helps individuals become more aware, sensitive, and accepting of individuals from all walks of life. It really helps us to understand ourselves and one another better, and it equips us to create a place where all students feel safe to be themselves. No matter who you are, what field you work in, or what your dream job is, at some point, you're going to work with people who are different from you. Having the skills to create a more inclusive environment will help you in whatever you do in life.
Who can take the Safe Zone training and what do they learn?
We offer Safe Zone training four times a semester. When we first rolled out this training in 2019, it was offered just to faculty and staff, but we've since opened it up to students, and in February, we will expand the curriculum to delve deeper into how to support transgender and gender-nonconforming identities. We're also working to train additional facilitators so we can offer the training more frequently. During the training, we talk about important milestones in LGBTQ history and LGBTQ identities, and inclusive language to help training participants better understand and support those individuals. We talk about what it means to be an ally or advocate to the LGBTQ community. Since we started offering the training, we've had about 40 individuals go through it.
What changes have you seen since the introduction of the Safe Zone training?
After they complete the training, participants receive a Safe Zone sticker and certificate. Many of the participants proudly display their stickers and certificates in their office or on their laptop. It is a physical representation of their commitment to creating an inclusive environment. It sends a powerful message to students that they are in a safe zone and have someone to talk to who will understand them.
In 2019, Piedmont hosted its first Pride Walk, which we put together while also running our first Safe Zone training, and we're currently planning an event to teach and talk about the use of pronouns. Sometimes, just sharing your personal affirmed pronouns is enough to express to students that they're safe here. When I introduce myself, I say "I'm Zac Moore and my pronouns are he/him/his." I had a student leave a comment after a recent orientation who said hearing me share my pronouns made her feel welcome and included.
What are some steps that individuals can take to help create a more inclusive environment even if they can't attend the full Safe Zone training?
A big thing we can all do is to make sure we're using more inclusive language. Phrases like "you guys" and "your son or daughter," are gendered phrases. Using more neutral words, like "your student" or "you all" — or "y'all" because we're in the South — expresses that Piedmont is open to everyone, regardless of how they identify. Another big tip is to listen to understand rather than respond. Many times, when we're listening to someone, we already have a response ready in our minds. Instead, we should take a step back and try to really understand where they're coming from. Get deeper into conversations. Ask the person why they feel the way they do.
What are you most proud of about the Safe Zone training?
My main goal when we were building this is I wanted it to be able to outlast any single individual. Even years from now, if we're all gone, someone else can pick up our facilitator guide, read it, and facilitate the training. No matter what happens to us as individuals, whoever comes next will have the ability to continue making Piedmont an inclusive environment. We've created a legacy.