Back to news
She's 63 and has just been diagnosed with a learning disability. That's not stopping Piedmont student Carmen Schuerman.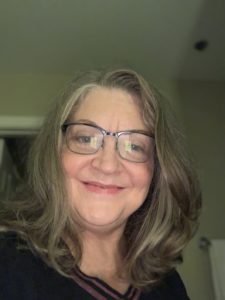 For 63 years, Carmen Schuerman struggled with mathematics.
She failed the second grade. She needed fingers and toes to work problems others could solve with paper and pencil. When the math became too advanced, she had to draw dots contained in circles to help her "see" the sums and quotients. At one of her first jobs, as a cashier, customers helped her count their change.
All her life, Schuerman found ways to compensate for her difficulties with math, and she managed to have a highly successful career as a graphic designer, but she always wondered why numbers posed such severe challenges.
Shortly after enrolling at Piedmont University in fall 2020, she finally got her answer:
"I have a learning disability that was never diagnosed until I came to Piedmont," she said. "Piedmont is helping me tackle something that's been a challenge all my life."
It's Called Dyscalculia
When Schuerman was growing up, little was known about learning disabilities, and her teachers chalked her difficulties with math up to her being "just slow."
Always a determined student, Schuerman labored over her homework, taking all the time she needed and devising whatever systems would help her make sense of the numbers — like drawing dots and circles. Her efforts garnered her high grades.
When it came to tests, however, the truth of Schuerman's struggles with math was unavoidable; it was right there in the red X beside each problem she got wrong.
"My test scores were always very low," she said. "My schoolwork would offset my scores, but tests were always extremely difficult for me. When it came to tests, it was like both my hands were tied behind my back."
For years, throughout high school and her studies at Georgia State, where she completed a Bachelor of Fine Arts in graphic design, Schuerman did her best, dreaded math test days, and poured herself into her art.
"I learned to overcome my difficulties with math through art," she said.
When she graduated from Georgia State, Schuerman considered two paths for her professional life: graphic design or art education. Her heart was fully in the latter, but the former presented more lucrative opportunities, and because of her own difficulties in school, she wasn't certain she could succeed as a teacher. She spent the next 40 years as a graphic designer, and later, a corporate trainer, for a major telecommunications company.
When she retired, she applied to Piedmont to pursue a degree in education to, she hopes, finally become the art teacher she feels she was meant to be. It was at Piedmont that her learning disability was diagnosed.
"It's called dyscalculia," Schuerman said. "It's like dyslexia, but with numbers instead of letters. It affects not just my ability to do math, but my ability to read a clock, determine distance, my ability to put things in sequence."
A Diagnosis — and Long-Awaited Validation
From the very start, Piedmont provided Schuerman with the kind of support she needed to return to school and prepare for a career change late in life. Still, she never imagined it would be here that her learning disability would finally be diagnosed.
It happened in January of this year, after Schuerman studied dyscalculia in a course she was taking about learning disabilities. As she learned about the disorder, she felt certain it was the reason for her lifelong struggles with numbers. Test results that came back in the summer confirmed her hunch: She has dyscalculia, which is compounded by short-term memory issues and anxiety.
Looking back, she now fully understands why math tests were so difficult for her. Not only did her dyscalculia impede her ability to comprehend questions, but her short-term memory issues made it nearly impossible for her to remember problems without re-reading them several times. As the time to complete a test ran short, she became increasingly anxious, making it even harder to perform well.
"I feel validated," she said. "For so long, I felt invisible."
Since then, the support from Schuerman's Piedmont "family" has only intensified. She named Associate Education Professor Dr. Elias Clinton, Art Education Professor Dr. Jackie Ellett, Associate Education Dean Dr. Kelly Land, Coordinator of the Office of Accessibility, Resources and Services Dr. Sue Smith, and more as being especially helpful along her educational journey, which has been made all the more arduous by the demands of caring for her grandson and great-granddaughter, the recent death of her grand-niece, and flooding that displaced her from her home.
"I'm just in a state of tears by the mercy and kindness they've shown me," she said. "They've made accommodations for me, given me extensions on assignments and extra time to complete my tests. I can't speak highly enough about what this school has done for me. I'm just in awe of how quick the school has been to help not just me but any student facing any kind of battle. You're never turned away here, never."
Pursuing Her "Second Life"
Schuerman remembers the moment she fell in love with art. She was in the third grade, failing nearly all her subjects, feeling sad and embarrassed, when the art teacher rolled in a cart brimming with colored paper, paint, crayons, pencils, and other supplies.
"She asked us all to draw something. This was the first time I ever heard praise for something I did in school. My artwork was chosen to be hung in the principal's office," Schuerman said.
From that point on, Schuerman dedicated herself to art, finding release, joy, and fulfillment in every piece she created. Her life had been changed through art education, and she longed to do the same for other people. Her disability, however, held her back.
"Because of my dyscalculia, I didn't think I could ever become a teacher," she said.
Four decades passed. Schuerman satisfied her artistic side through her work as a graphic designer, and her inner teacher through her roles as a senior pastor's wife, providing guidance and counsel to members of the congregation, and as a volunteer serving abused and neglected children.
In her latter years with the telecommunications company where she spent her career, Schuerman became a trainer, teaching employees throughout the organization about new products and sales techniques.
That role convinced her she belongs in a classroom. Now, she is pursuing her "second life."
Schuerman hopes to become an art teacher at the high school or college level. One day, she said, she may even pursue a doctorate to teach at higher levels.
"I want to help other people who have the kind of barriers I had," she said. "I want to help them use art as a vehicle to learn and get through whatever they're going through."
She also plans to share her story to inspire her classmates, her students, anyone who may feel their dreams are out of reach.
"I will tell them that they are being their own limitation. It might take time, and it might be a struggle, but if you have the passion to overcome your obstacles, you will be successful," she said.
"I'm a 63-year-old lady going back to college. There is always a way. I'm living proof of it."
For more information about Piedmont's programs in education and art education, visit piedmont.edu/academics.