Back to news
Students: Apply Now to Participate in 2022 Piedmont Symposium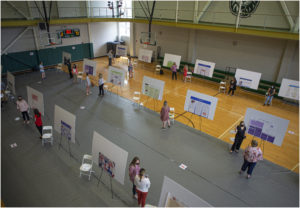 Applications are now being accepted for the fourth-annual Piedmont Symposium, the university's annual celebration of student research and creative inquiry.
"The symposium is a highly anticipated event at Piedmont University," said Associate Professor of Biology Dr. Julia Schmitz, who directs the university's Quality Enhancement Plan, which promotes high-impact practices. The Symposium was created as part of the QEP.
"The symposium is a chance for students to share their academic endeavors with the university community, and for them to gain valuable skills as they go through the process of preparing and delivering their presentations, responding to questions and comments, and interacting with judges."
During the symposium, students present their research at locations across the Demorest and Athens campuses. The topics of previous presentations have included ethical stock trading practices, gaming, virtual learning, and the differences in salary, media attention, and amenities based on gender in sports.
The 2022 symposium will take place in person. The university's COVID protocols at the time will apply.
The symposium will also be livestreamed, allowing students' family members and friends to support them from afar.
The symposium will take place April 6. Applications are being accepted through Feb. 11. The application can be found here: Piedmont Symposium | Piedmont University.
For more information on the symposium, contact Schmitz at jschmitz@piedmont.edu.