Back to news
Piedmont Athens Student Pursuing Two Degrees Tells Other Women: "You Can Do It Too"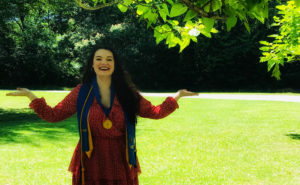 Eliana Heckman wants other women to believe in themselves and their ability to achieve their goals.
That's why she's pursuing two degrees at Piedmont University's Athens campus and dedicating her career to higher education administration, a field that will allow her to open doors for future generations of women.
"I want to use my degrees to promote women being in the workforce," Heckman said.
"Growing up, I didn't see many women in business positions. I think women belong in the world of business, and I want to help them get there."
Heckman, a native of Athens, completed an associate degree in business management with a specialization in human resources management at Athens Technical College before transferring to Piedmont University.
She works as a business specialist at the University of Georgia's English Department, but when it came time to pursue her bachelor's degree, she found Piedmont a better fit for her individual needs.
She is now pursuing bachelor's degrees in business administration and marketing. She is on track to graduate in fall 2022.
"I chose Piedmont because of the class sizes. At a bigger school, I would be in classes with 200 or 300 people. I don't like talking in front of big classes," she said.
"At Piedmont, the classes are very intimate. The professors take the time to make connections with us and answer our questions. They make sure we understand so we can succeed."
The online format of Heckman's degree programs also makes it easier for her to balance her studies with her career. She works an 8-to-5 schedule and is able to complete her coursework on her own schedule.
As she's made her way through her classes at Piedmont, Heckman has noticed changes within herself that have spilled over into her professional and personal lives.
"The financial classes really helped me understand how finances work. I work with the budget in my department. It's a huge deal when you're dealing with scholarships, awards, and travel authorizations. You don't want to mess any of that up. Those classes gave me the confidence to work with the budget and be able to communicate to my supervisor how much we have in each fund," she said.
"That confidence has contributed to my personal life. At 23 years old, I just started my retirement fund. The classes made me take a look at my own finances and start saving. I'm really proud of myself."
Looking ahead, Heckman plans to become an office or business manager at UGA.
"I want to help people get their education and advocate for people in college," she said.
Through her work and the example she sets, she hopes she can help others — especially women — realize their own limitless potential.
"Anybody can do it. Education opens up so many possibilities," she said.
"Do it at your own pace. Have a serious conversation with yourself about what you want to do with your education, and then hang on to that when things get stressful. Take your time, start out small, but keep going."
Learn more about Piedmont's Athens campus by visiting piedmont.edu/athens-campus.