Back to news
Piedmont University Gathers More than 1,000 Books to Donate to Georgia's Prison Classrooms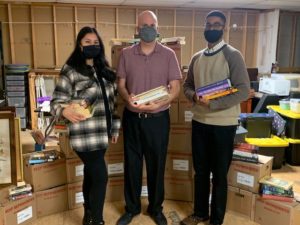 Piedmont University students, faculty, and staff have collected nearly 1,000 books for X Books and Common Good Atlanta. The books will be used in prison classrooms across the state of Georgia.
"It's been inspiring to see people from across campus come together for this effort," said Dr. Matthew Teutsch, director of Piedmont University's Lillian E. Smith Center.
"The books we've collected will be used in prison education programs, helping currently incarcerated individuals gain new knowledge that they will put to use as they make positive changes in their lives."
Teutsch added that the book drive aligns well with the mission of the Lillian E. Smith Center. Smith was a best-selling author and Civil Rights activist. Smith studied at Piedmont. Piedmont now owns and operates the Lillian E. Smith Center on more than 100 acres where Smith lived and worked in Clayton, Georgia. The Center is an educational facility and a retreat for artists, writers, scientists, and others committed to continuing Smith's work.
The collected books span a wide variety of topics, from literature and grammar, to art history and sociology, fictional bestsellers.
Along with Teutsch, Piedmont's Student Government Association and Student Organization of Latinos (SOL) have taken lead roles in the book drive.
SGA President Michael Mack said:
"Reading is knowledge; knowledge is power. We wanted to give that to the incarcerated people of our state, to help keep them reading, active, and busy," Mack said.
"These books might capture someone's interest, and once they transition out of prison into the world, they could use that interest to expand themselves in our society."
SOL President Odalys Rendon added:
"Incarceration affects the Hispanic community. We saw this as a way to help our community while also working with other organizations on campus to make a difference."
Additional donations are welcome. To make a donation, contact Teutsch at mteutsch@piedmont.edu.
X Books and Common Good Atlanta are both dedicated to improving education in the state's prisons.