Back to news
Piedmont Celebrates $25,000 Gift from Georgia Power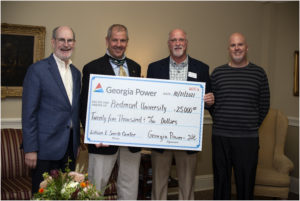 Piedmont University has received a $25,000 gift from Georgia Power to support its Lillian E. Smith Center. Area Manager Brent Edwards presented the check to Piedmont President James F. Mellichamp during a visit to the Demorest campus on Oct. 21.
"Georgia Power is very committed to diversity, equity, inclusion, and social justice," Edwards said. "We commend Piedmont University for their efforts with the Lillian E. Smith Center, and we wanted to show our support through this donation."
Smith was a social activist and author of "Strange Fruit," the best-selling novel about an interracial relationship that takes place in Georgia in the 1920s. Smith studied at Piedmont University.
The Lillian E. Smith Center is located on more than 100 acres where Smith lived and worked in Clayton, Ga. It serves as an educational facility for the university as well as a retreat for artists, writers, scientists, and others committed to continuing her work.
The Center offers residencies for individuals seeking an environment to pursue professional achievements, as well as programming for area middle and high school educators. In addition, Piedmont is planning a one-week camp for underrepresented high school students at the Center.
Mellichamp expressed his gratitude for Georgia Power's generosity.
"Lillian E. Smith passed away more than 50 years ago, but this is very much the time for her words, ideas, and values to be heard by students of all ages," Mellichamp said.
"This generous gift from Georgia Power will support our efforts to expand programming at the Center and share Lillian E. Smith's work with an ever-growing audience."
For more information about the Lillian E. Smith Center, visit www.piedmont.edu/lillian-e-smith-center.