Back to news
'The Ferrari of Choral Singing': Piedmont's Cantabile Performs Oct. 28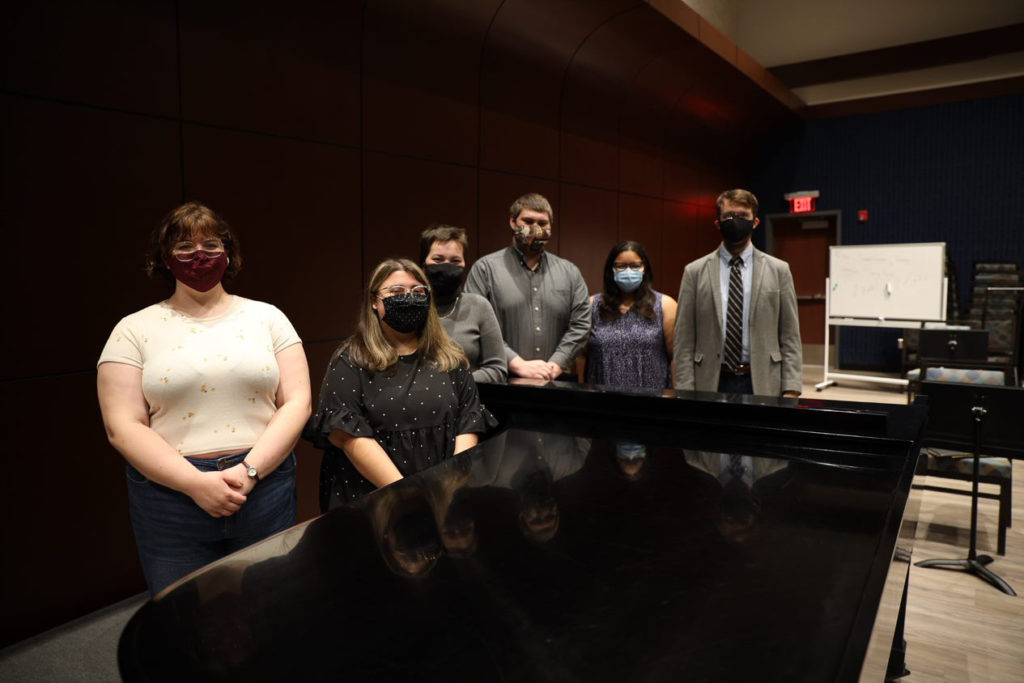 Piedmont University's elite student singing ensemble, Cantabile, will perform a repertoire ranging from Estonian folk songs to pop hits during their Oct. 28 concert at the Demorest campus.
Cantabile is a small ensemble comprised of only six performers. Students undergo a rigorous audition process before being invited to join Cantabile.
"It's like the Ferrari of choral singing. With only six voices, each singer has so much control, and can change the direction of the performance very quickly. It creates this excitement and energy, but it's also very challenging for the students," said Mark Woodcock, adjunct music professor and director of Cantabile, who also sings in the ensemble.
In addition to Woodcock, Cantabile performers include:
Julia DeMello, soprano
Catherine Gunn, soprano
Ellawyn Ketch, alto
Kristy Lightsey, alto
Nathan Luders, bass
DeMello, a junior from Dahlonega majoring in music performance, said Cantabile offers unique opportunities for her to grow as a performer.
"I personally wanted to be a part of Cantabile to challenge myself as a musician. Cantabile often does a more challenging repertoire than our other ensembles on campus, so being in the group gave me the opportunity to work on harder music and strengthen my skills," she said.
"Because of the more challenging repertoire, Cantabile has helped me to strengthen my reading and performance skills. In addition, Cantabile has helped me with my listening skills — whether that be listening and blending with my fellow singers or listening to directions given by our director. I have learned to pay more attention to detail overall because of my experiences in this group."
DeMello and her fellow Cantabile performers will put their skills to work during the Oct. 28 performance, singing a lineup that will begin with French, German, and Italian Renaissance selections.
"All three of these songs are about the loss of different things," Woodcock said. "From leaving someone you love, to leaving a town you love, to realizing someone is not the person you thought they were."
The first set of the program also includes a pair of Estonian folk songs.
In the second half of the program, Cantabile will take a turn into the pop realm with "In My Life" and "Blackbird," by the Beatles, "Bridge Over Troubled Water" by Simon & Garfunkel, and "Christmas Time is Here," from A Charlie Brown Christmas.
"The second half is about love, consolation, and being there for people," Woodcock said.
"It's a very emotional lineup. We will lead audiences through songs about loss and desperation, to songs about comfort and hope. It's a challenging program for the students, and one that we think will resonate deeply with our audience."
Cantabile will perform at 5 p.m. on Oct. 28 at the Conservatory Concert Hall located on Piedmont University's Demorest campus, 1021 Central Ave. The event is free and open to the public. Face coverings and social distancing will be required.
Learn more about Piedmont's Fine Arts programs and events at www.piedmont.edu/fine-arts.