Back to news
Piedmont University is Now on TikTok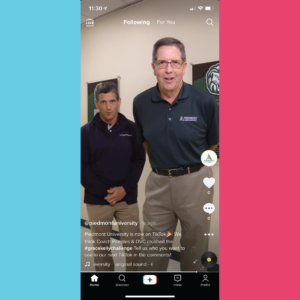 Piedmont University is now on TikTok!
Piedmont posted its first video on the social media platform on Oct. 1.
In the video, Mass Communications Professor Dale Van Cantfort, who also serves as Faculty Senate president, and Director of Intercollegiate Athletics Jim Peeples perform the Grace Kelly challenge. Millions of TikTok users have performed the Grace Kelly challenge in recent weeks. The challenge involves singing lines from a 2007 song by Mika called "Grace Kelly."
In mid-September, Hollywood stars Ryan Reynolds and Will Ferrell participated in the challenge in a TikTok video that went viral and earned mainstream media attention.
Working with members of the Marketing & Communications staff, student Tyler Goins produced Piedmont's first TikTok video.
Goins, a senior majoring in mass communications, selected Van Cantfort and Peeples to star in the video.
"Everyone loves DVC (Dale Van Cantfort) and Coach Peeples. They're very well known on campus," Goins said.
"Everyone should be following Piedmont on TikTok. They're going to see a lot of new, funny content that the university isn't posting on its other social platforms."
TikTok is one of the world's fastest-growing social media platforms. Approximately 40 percent of its users are between the ages of 16 and 24 — making it a useful tool in connecting with current and prospective Piedmont students.