Back to news
Piedmont University's Roar Receives First-Ever National Recognition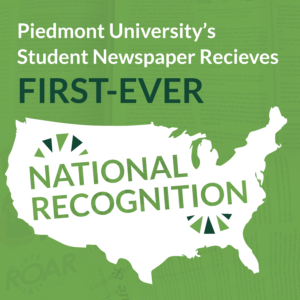 Piedmont University's student newspaper, The Roar, is a finalist for the College Media Association's Pinnacle Award, the most prestigious national award for individual work in collegiate journalism.
The Roar is one of five finalists for the CMA's Best Editorial Award, vying against entries from Appalachian State, Baylor University, UCLA, and Vanderbilt.
The Roar was nominated for an editorial titled, "Graduation: An Empty Ceremony is No Ceremony at All," that published in April 2021. In the editorial, student staff writers implored Piedmont's administration to allow guests to attend the May 2021 graduation ceremony.
As vaccinations became more widespread and pandemic threat levels diminished, Piedmont adjusted its graduation protocols, allowing two guests per each graduate.
The editorial was chiefly written by 2020-21 editor-in-chief Abby Cox (Williamson, Ga.) who graduated in 2021, with contributions from other senior staff members. It was approved by the staff and edited by last year's opinion editor, Emma Marti (Flowery Branch, Ga.).
Faculty adviser Joe Dennis, who is also co-chair of Piedmont's mass communications department, said:
"It's very easy for opinionated writing to turn into a rant—a 'rage against the machine' mentality. I'm proud of our students, who for this editorial, decided to take a more tactful approach and not only ask for change, but also offer gratitude and provide alternative solutions.
"It's a huge accomplishment to be recognized along with such prestigious student media outlets at much larger institutions. It proves that Piedmont students can compete with the best and is a testament to the quality of education students get at Piedmont University."
The Roar is consistently competitive at the state level—most recently receiving a 2nd Place General Excellence Award from the Georgia Press Association in 2020—but has never before earned national recognition.
Award winners will be announced in October at the National College Media Convention.