Back to news
Piedmont University President to Give Organ Recital on Sept. 19 in Athens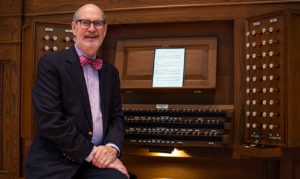 Piedmont University President Dr. James. F. Mellichamp will perform a recital on the new pipe organ at Athens First United Methodist Church at 3 p.m. on Sept. 19.
In February 2018, First United Methodist commissioned Quimby Pipe Organs, Inc., to build a new organ. With nearly 3,900 pipes, it is one of the largest organs outside of Atlanta in the state.
Dr. Mellichamp was a consultant to the church for the design of the organ, which was installed in July 2020. The church is now dedicating the instrument with a series of recitals. Dr. Mellichamp will be one of the first performers.
"First United Methodist's Quimby organ is a magnificent instrument, a true treasure both for the church and the community. I'm honored to perform as part of this recital series," Mellichamp said.
With a performance career spanning 45 years, Dr. Mellichamp has made prominent appearances as an organist throughout the United States, Canada, Europe, and Asia. His concerts have included solo recitals at such notable venues as the Washington Cathedral, Berlin Cathedral, Dijon Cathedral, Cathedral of Notre Dame in Paris, Moscow Cathedral of the Immaculate Conception, St. Paul's Cathedral, and Westminster Abbey in London.
As an organ consultant, he has been responsible for the design of more than 50 organs for churches and colleges in the United States.
Since 1982, Dr. Mellichamp has been a faculty member at Piedmont University, a comprehensive regional institution in Georgia, where, as Professor of Music, he maintains an active studio of young organists. After years of service as Dean of the College of Arts and Sciences, and later Vice President-Provost, he was elected University President in 2012.
Dr. Mellichamp received a baccalaureate degree in organ performance from Huntingdon College in Alabama; a diploma from the Hochschule für Musik in Herford, Germany; and his Doctor of Music degree from Indiana University. In 2015, he was named Distinguished Organ Alumnus by the Jacobs School of Music at Indiana University.
Dr. Mellichamp's performance is free and open to the public. No tickets are required. Face coverings are strongly encouraged.
For more information, contact First United Methodist Church Director of Music Stephen Mitchell at stephen@athensfirstumc.org.