Back to news
An Experienced Midwife, New Nursing Professor Now Aims to Deliver High-Quality Education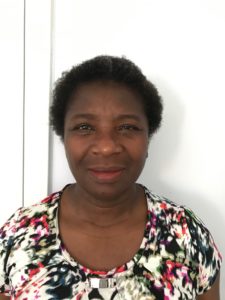 In her career as a midwife, Anthonia Anukam estimates she has delivered more than 1,000 babies.
As a member of Piedmont University's nursing faculty, she now aims to deliver something else: high-quality education that will transform students into high-performing healthcare professionals.
"Nursing is a sacred community," Anukam said.
"As nurses, we must recognize that so much is riding on us. Someone else's life is in our hands. We must always be compassionate and actively listen, then do what is best for our patients."
Born in Nigeria, Anukam pursued her career in nursing after watching her father fall ill with diabetes.
"He was in a diabetic coma, and in my eyes, he was dead. He was lifeless. But the next day, he was sitting up and talking. There were all these nurses around him, taking his vitals," she said.
"I said to myself that if my dad ever got sick like that again, I would be able to help. He was my inspiration."
Anukam went on to study nursing in Nigeria, earning the equivalent of an associate's degree, before coming to the United States in 1986. After her arrival in America, Anukam's father inspired yet another important decision in her life.
"My father always wanted me to go to university and earn my bachelor's degree," she said. "When I got here, I decided to fulfill that dream for my dad."
In fact, Anukam far surpassed her father's dreams for her life. After completing her Bachelor of Science in Nursing from Florida A&M University, she earned her Master of Science in Nursing with a specialization in Nurse-Midwifery from Emory University, then her Doctor of Nursing Practice from Georgia College & State University.
For the last 21 years, she's worked as a midwife at Piedmont Athens Regional Midwifery and Women's Center.
"As a midwife, I take care of the woman through her lifespan, from antenatal to postpartum and routine gynecological care," she said.
"I build a relationship not just with the patient but with the family. I feel like I have an impact."
As a nurse-midwife, Anukam often supervised college students completing their clinical training. Those experiences sparked a love for teaching, and when she noticed Piedmont University had an opening, she jumped at the chance to enter academia.
"I had some interaction with both the faculty and students from Piedmont University, and I loved what I saw," she said. "There was a camaraderie among the faculty members, and the students were well prepared.
"Piedmont is also a small university, with small class sizes, which is something very dear to my heart. I went to small schools and loved it. I think students do better in a smaller, more personal environment."
Now an assistant professor of nursing, Anukam is teaching a course in health assessment. Her students will learn to assess their patients' conditions to quickly initiate appropriate treatments. They will leave her better prepared to help patients like her father or the women whose babies she's delivered in the last two decades.
"I remember being a student, and the fear, anxiety, and nervousness I had coming in," she said.
"I want to give my students the skills they need to help them become the very best nurses they can be."