Back to news
Piedmont University to Offer Master's Degree in Professional Counseling Beginning Spring 2022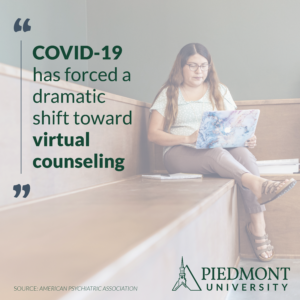 Piedmont University will launch a master's degree in Professional Counseling spring 2022, a program that responds to both student demand and the rise of technology within the field.
Applications for the Master of Arts in Professional Counseling – Clinical Mental Health Concentration, a fully online program, will be accepted through Nov. 15. Classes begin in January.
"The timing for the launch of this degree is fortuitous," said College of Arts and Sciences Dean Steve Nimmo.
"During the pandemic, counseling services have been in high demand, and because of the health risks of face-to-face contact, there's been an increase in demand for virtual counseling services. We've designed our program to prepare students to work in both an in-person and online setting."
The Bureau of Labor Statistics predicts jobs in counseling will grow by 25 percent through 2029, which it describes as "much faster than average."
"Piedmont's online professional counseling program makes it possible to balance work and family while earning your degree fully online," said Kathy Robinson, program coordinator for the new master's degree. "Virtual learning and counseling are here to stay."
Designed to be completed in 2.5 years, Piedmont's Master of Arts in Professional Counseling program will include required coursework in telemental counseling. Other programs often offer such courses as electives.
An American Psychiatric Association survey found that COVID-19 has forced a dramatic shift toward virtual counseling. Prior to the pandemic, more than 63 percent of survey respondents were not offering any type of virtual counseling. Two months into the pandemic, 85 percent of respondents were seeing at least a portion of their patients virtually.
"Including this course in our curriculum is intentional and strategic. Students must learn how to do virtual counseling safely, ethically, effectively, and legally," said Robinson.
Robinson, who holds a doctorate in Counselor Education and Supervision from Auburn University and is a Licensed Professional Counselor in the State of Georgia, added that the online format of the counseling program will provide another layer of preparation for students.
"It gets them comfortable with the online setting and with communicating effectively through the use of technology rather than face-to-face," Robinson said.
However, students will still receive personal attention and opportunities for interaction.
"Our classes will be very small. This will allow the faculty to engage with their students and invest in them 110 percent," Robinson said. "We want this to be one of the best degree programs in the country."
Robinson plans virtual office hours, live webinars with professionals, and additional online events, all designed to help students collaborate with one another.
The program will also provide students with in-depth study of frequently used counseling techniques and modalities, such as cognitive behavior therapy or dialectical behavior therapy.
"Piedmont places an emphasis on providing a practical education that students can put to use in the real world," Robinson said.
"In some counseling programs, students receive an overview of commonly used therapies. We're going to go deeper, so that our students can go into their future practices with confidence using these modalities."
Piedmont's program will prepare students for licensure in the State of Georgia. Click here or more information on the program and to apply.