Back to news
Artist Pamela Diaz Martinez Bringing Her Work to Piedmont University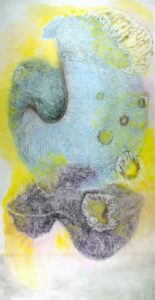 Piedmont University will host artist Pamela Diaz Martinez, who previously worked in the fashion industry, for a panel discussion and month-long exhibit that opens Aug. 26.
"Pamela's work is very colorful and abstract, said Rebecca Brantley, director of Piedmont's Mason-Scharfenstein Museum of Art. "It presents a different way of thinking about art making that we expect will capture the imaginations of our patrons."
The exhibit, titled "Pamela Diaz Martinez: an idiosyncratic path toward …" will be on display through Sept. 23 at the museum, located at 567 Georgia St., Demorest. The museum is open 12-5 p.m. Tuesday-Saturday. Admission is free. Masks are required.
For nearly a decade, Diaz Martinez designed for Esquivel, a luxury shoe brand based in California. Her work was featured in publications including Vogue, The Wall Street Journal, and Esquire. In 2015, she left the fashion industry to focus on drawing and painting. Her work, which brings together experimental abstraction and theological inquiry, has been displayed at museums on both the East and West Coasts. In 2017, she was included in a group show at The Museum of Contemporary Art of Georgia.
Martinez's exhibition at the Mason-Scharfenstein Museum features a series of abstractions based on her experiences of the Holy Spirit.
"I am making portraits of the Holy Spirit in the foreground of the landscape, caught in a fraction of a moment. They are meant to represent the chaotic and the intentional nature of God," she said.
Martinez will share more about her spirituality and how it informs her work during a panel discussion planned for 4-7 p.m. on Aug. 26, also at the museum. In addition to Martinez, guest speakers will include Piedmont's Campus Minister, Rev. Tim Garvin-Leighton, Professor of Religion and Philosophy Timothy Lytle, and artist and scholar Rondall Reynoso.
Learn more about Fine Arts at Piedmont University here.