Back to news
Piedmont University Launches New Degree in Special Education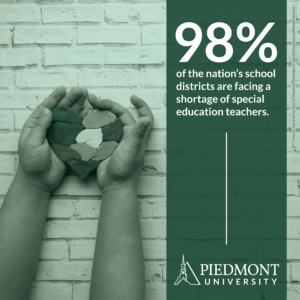 Recognizing the critical need for teachers, Piedmont University is launching a Bachelor of Arts in Special Education program this fall.
"Nationwide, we are experiencing a critical shortage of teachers, but this is especially true in the field of special education," said Associate Professor of Education Elias Clinton, who led creation of the program.
"Piedmont has long offered master's degrees in special education, but by adding the bachelor's degree, we saw an opportunity to help with the teacher shortage and to give those who are passionate about special education — like I am — a path for pursuing their career as early as their freshman year of college."
According to the Centers for Disease Control & Prevention, about one in six children have at least one developmental disability or delay. At the same time, the National Coalition on Personnel Shortages in Special Education and Related Services reports that 98 percent of the nation's school districts are facing a shortage of special education teachers.
"The shortage has been exacerbated by the pandemic. We were already understaffed, but the pandemic led to more retirements and fewer people entering the field," Clinton said.
Local school districts are hailing the creation of the special education bachelor's degree program.
"As school districts continue to meet the diverse needs of our students, it is more important than ever to have teachers well prepared to meet those needs. We often find teachers adding on special education certification at the master's level or beyond. The challenge with not having an option at the undergraduate level is two-fold: One, it prevents teachers from building content knowledge and experience through multiple degrees. Two, it also impacts the time at which students are graduating from universities with the credentials essential to serve students with disabilities," said Heidi Hill, executive director of special education and behavior supports at the Clarke County School District.
"Local universities that offer a bachelor's degree program in special education will better equip school districts with individuals who are ready to meet the needs of these learners."
The baccalaureate-level program will prepare undergraduates for teaching certification in the state of Georgia, with courses in pedagogy, human growth and development, special education policies and laws, teaching students with disabilities, and specialized behavior intervention techniques.
Through the duration of the program, students will have the benefit of learning from educators with extensive experience in the State of Georgia.
"All of our professors have been public school special education teachers in Georgia," Clinton said. "We will use their experience to help us tailor our instruction to ensure our graduates are highly prepared."
For Clinton, who holds a doctorate degree in special education from the University of Georgia and worked as a special education teacher in the Clarke County School District, adding the bachelor's degree program was a passionate endeavor.
"Every child with special needs has the ability to learn and succeed. To see a student with dyslexia learn to read, or a student with autism who shies away from social interaction begin to start initiating conversations, it's incredible," Clinton said.
"These students need educators who are determined, patient, and skilled problem-solvers. Those are the kind of educators we produce at Piedmont. The bachelor's degree program creates a new pipeline for getting our graduates into Georgia's special education classrooms."
The Bachelor of Arts in Special Education will be offered at both the Demorest and Athens campuses. In Athens, online and evening courses are available to assist those who are working or raising families in addition to pursuing their education.
"We've found that many of our potential students are already working in the field of education, including as paraprofessionals assisting teachers in these classrooms," said College of Education Dean Mark Tavernier.
"We want to encourage and support those who have a heart for children — and remove as many barriers as possible as they seek to further their education."
The flexibility of the program is exactly why Samantha Foster enrolled as one of the first students in the program. Foster is currently working as a special education paraprofessional in Madison County.
"The job and the children are my entire heart, and I can't fathom doing anything else except for finally having my own classroom," she said. "Piedmont is close to me, and the classes are geared toward working adults. This program will allow me to do what I love at a higher level." Learn more about Piedmont's College of Education.