Back to news
Jasmine Sanchez Overcame Challenges to Earn Nursing Degree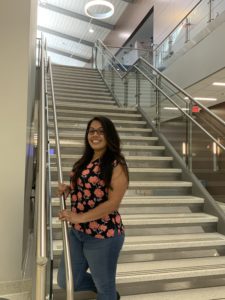 Piedmont University promises students a personalized educational experience, marked by small class sizes and close relationships with their instructors. Jasmine Sanchez is proof of just how powerful that combination can be.
"My life changed here at Piedmont. I learned to never give up, and I learned it's OK to ask for help," said Sanchez, who graduated earlier this year with her Bachelor of Science in Nursing degree and recently started working as an ICU nurse at Northeast Georgia Medical Center.
"I am thankful for the people I met here who helped me get where I am today."
Sanchez's path to Piedmont was winding and difficult. As a high school student, she became pregnant with her first child, a daughter who is now 10.
"I really thought I was done. I thought my life was over, and that I'd work at Captain D's forever," Sanchez said.
Her mom, Georgina, had other plans.
"She told me I wouldn't drop out, that I would get an education," said Sanchez. "I said, 'But what about all the people who will judge me?' She told me that didn't matter, that I had to keep going for my family."
Sanchez enrolled at Mountain Education Charter High School, where she earned her high school diploma. In the years that followed, she became a mother twice more.
Through her pregnancies and the exhaustion that comes with raising young children, Sanchez continued to pursue her education and her goal of one day working in healthcare. She also clung to her childhood dream of attending Piedmont.
"Growing up, every time we drove by the Demorest campus, I would tell my mom, 'I'm going to go there one day. That's my school,'" Sanchez said.
After a surgery several years ago, Sanchez decided to go into nursing. She applied to two programs and got accepted to both, but her choice was easy.
"Of course I was coming to Piedmont," Sanchez said.
Sanchez was no stranger to adversity, but she soon realized that the nursing program, combined with her personal responsibilities, would pose challenges unlike any she'd previously faced.
To pay for her education, Sanchez worked in Piedmont's Graduate Admissions Office and helped her mother, a certified nursing assistant, care for her patients. In addition to working two jobs, she also played a huge role in raising her brothers and sisters, and of course, she's a mother to three children of her own.
In her second semester at Piedmont, the pressure almost proved too much for Sanchez.
"I was having a lot of breakdowns," Sanchez said. "I was trying to have a tough shell and hold everything inside, but I reached a breaking point."
Thankfully, three key individuals noticed Sanchez was struggling. One was Graduate Studies Coordinator Ashley Clouatre, who supervised Sanchez's work; one was Associate Nursing Professor Jennifer Kelley; and the other was Associate Nursing Professor Karen Greilich.
Greilich provided much comfort and support, Clouatre encouraged Sanchez to see a Piedmont counselor, and Kelley made the actual referral.
"Here at Piedmont, our class sizes are small — the student-to-faculty ratio is 11 to one. Faculty members are able to really get to know our students and their struggles, and we are able to intervene when our students need help," Kelley said.
"I got into nursing to help people, and then I discovered I could help people through teaching too. To know I was able to help Jasmine and play a small part in her success, it makes me feel really great."
With counseling, Sanchez learned how to better manage her many responsibilities.
"I also learned that it's OK to ask for help. It doesn't make you weak or different," she said.
With so many struggles behind her, Sanchez is now fully focused on her very bright future. She plans to buy a house, and she will be able to afford for her children to participate in football and cheerleading. She also plans to continue her education and eventually become a nurse anesthetist.
Wherever life takes her, Sanchez's Piedmont family will be cheering her on every step of the way.
"I hope when others meet Jasmine and hear her story, they know that they can come to Piedmont and get an education," said Clouatre. "Whether they're a first-generation college student, or they have children, or whatever their circumstance, they can come to Piedmont and be supported 100 percent. That's what we're here to do — for Jasmine and all our students."