Back to news
McKinney and the Manikin
For nearly a decade, Bob has been prodded, poked, and cared for by Piedmont students.
He's been diagnosed with cancer, had hundreds of strokes and heart attacks, and has endured death many, many times.
Bob, a high-fidelity medical manikin, takes it in stride. It's for a good cause. He teaches nursing students. His symptoms and even language (yes, he can talk) are controlled by faculty behind a one-way privacy window.
Bob's dress code is casual. Mostly, he wears a loose-fitting hospital robe and spends much of his day relaxing on the fourth floor of Daniel Hall. About a year ago, Dr. Erika McKinney, an assistant professor of health sciences in the R.H. Daniel School of Nursing and Health Sciences, forever changed Bob's routine.
She dressed him in a Piedmont soccer uniform, put cleats on his feet, and changed his room. Workers installed an aluminum bench, turfgrass and erected a large image of a stadium crowd and scoreboard. Then Bob's head began to hurt. Really bad. He felt nauseated. And his speech became muddled.
Then a different set of students began treating him. He had never seen them before. They were studying to be athletic trainers.
McKinney says athletic training students see plenty of sprains, breaks, and strains while shadowing certified athletic trainers on the court and field. But few are confronted with a head injury case. McKinney also programed Bob to suffer asthma attacks, dehydration, and diabetic seizures.
"During a career, our athletic trainers will be confronted with many of these issues," she said. "But because they occur less frequently, they don't see them during their clinical training."
McKinney's simple idea introduced a new dimension of learning for Piedmont athletic training students. And its impact was the subject of her doctoral dissertation, "The effects of high-fidelity manikin simulation on athletic training students' perceived self-efficacy in caring for traumatic brain injuries."
Practicing on Bob, she discovered through research, was far superior to learning about how to treat a brain injury through standard lectures and presentations.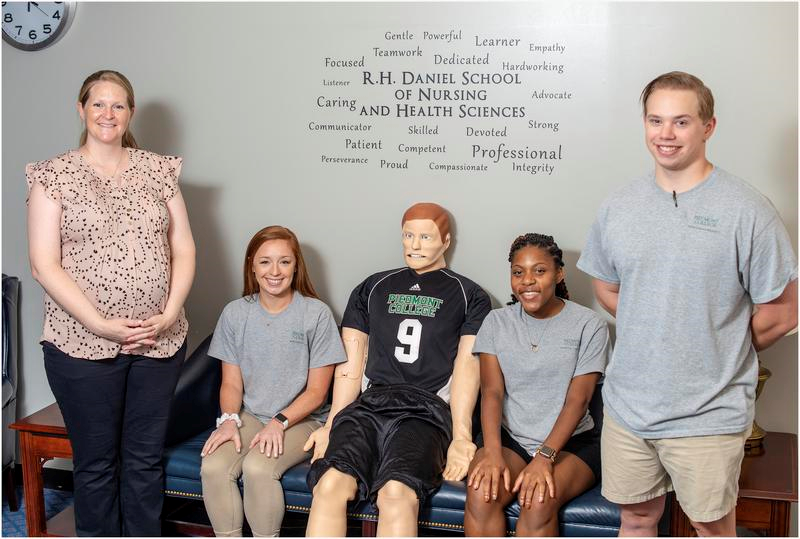 "The active learning really resonates with students," she said. "They learn by doing."
Through surveys, she found that working with Bob helped students to think on their feet. It boosted both their confidence and knowledge.
McKinney, an Ohio native who has served on the faculty since 2013, earned her Bachelor's degree from Otterbein University (Westerville, Ohio), Master's degree from Marshall University (Huntington, West Virginia) and Doctoral degree in Education from Piedmont.
She hopes her 187-page dissertation, the findings of which are likely to be published in the Athletic Training Education Journal, encourages Athletic Training programs at other institutions to use high-fidelity manikins when they are available.