Back to news
Back to busy
In Athens, the Georgia Bulldogs had pulled ahead of Vanderbilt 16-10, but an unanswered touchdown two minutes into the final quarter ultimately put the Commodores in the win column.
It was October 15, 2016. Piedmont University senior Gilbert "Bert" Ibarra had attended the game with a couple of lacrosse teammates. Walking back to the car, another friend texted him with an invitation to a bonfire at a farm in the same county as Piedmont's Demorest campus. Ibarra asked if he could bring his four-wheeler.
Dropped back at Johnson Hall, he packed for camping, loaded the ATV into his truck and headed for the farm.
"We did have a fun time, but I don't remember the bonfire," Ibarra said. "It was like I blinked, and it was the next day. I was on the four-wheeler and everything was already packed up. I said, 'I'll be right back. I'm going to take it for one last spin.'"
He recounts what happened next from the memories of others who were there. He doesn't remember the ATV flipping and landing on him, killing him on impact.
He doesn't remember the friend of the friend at the farm who was an EMT, or the CPR and tracheotomy that he performed to bring Ibarra back to life.
He was life-flighted to Grady Memorial Hospital in Atlanta, where he died again. Revived a second time, he fell into a coma and remained unconscious for weeks.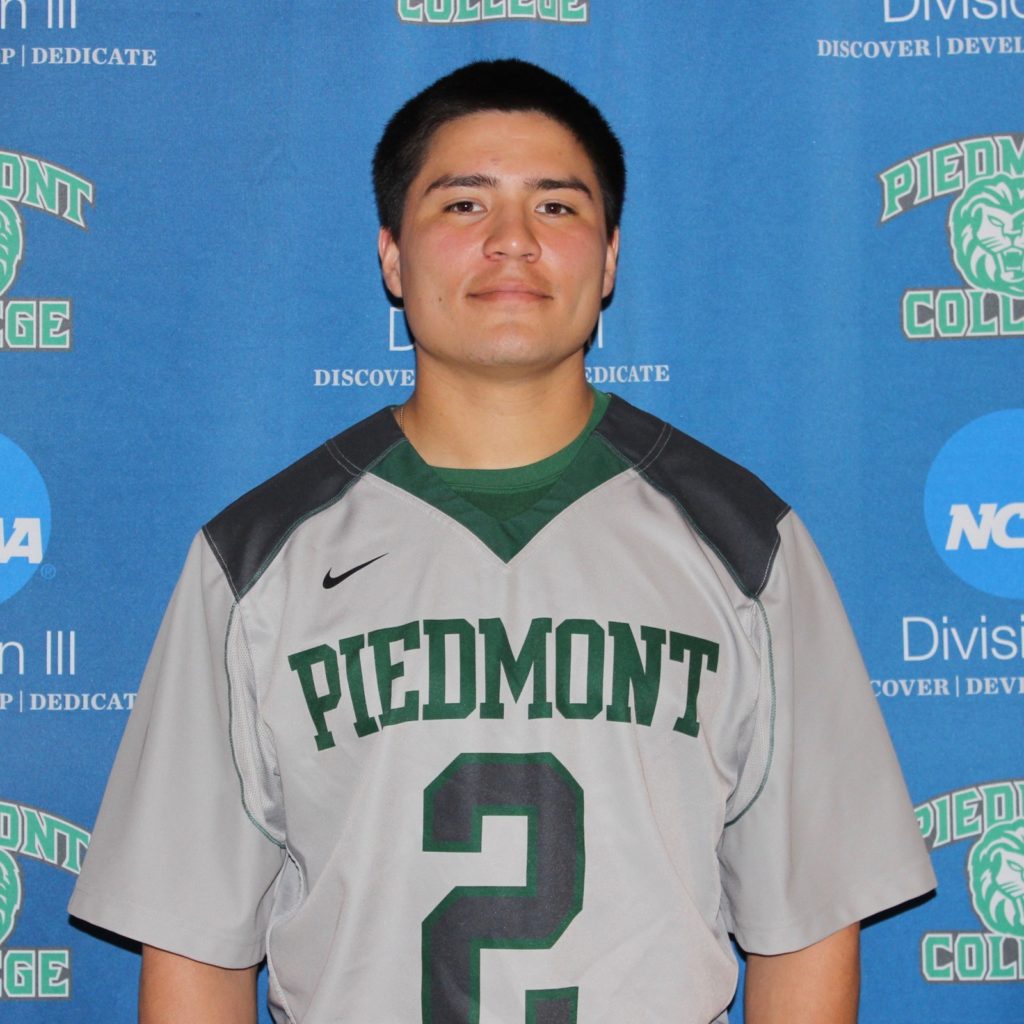 Abbey Dondanville, Piedmont's program director and professor of athletic training and associate dean of health sciences, remembered Ibarra before the accident as "very cool, very self-assured, very machismo—in a polite way."
Coach Tim Dunton noticed how people were drawn to him and the way he watched over his lacrosse teammates, making sure they were working hard and staying out of trouble. Ibarra was named a senior captain.
"As a coach, you look for those kids who can influence your younger guys in a positive way. Gilbert was a natural choice for us because of how he handled himself off the field, in the classroom, how he handled himself in the weight room," Dunton said. "He had that type of personality. He's fun, willing to learn, willing to be coached. Those are the types of people you want to have more of on your team."
In addition to studies and lacrosse, Ibarra held down two jobs and set aside time for family and friends.
A fighter
When Ibarra woke from the coma, he couldn't ask what had happened because he was unable to speak.
"My face was blank, like talking to a robot. I couldn't form facial expressions or show emotions," he said. "My whole right side was paralyzed. That's what my life was like for two or three weeks after I woke up. It was terrifying."
Back at Piedmont, lacrosse teammates and other friends held a prayer vigil on the quad. When Ibarra later continued his recovery at the Shepherd's Center, a facility in Decatur that treats spinal cord and brain injuries, many of them came to visit.
Photos and videos document Ibarra's progress. There is his father, Candido, helping him eat. His first steps after the trauma were captured on video. In another, he says, "Hi," to his mother, Ana.
Ibarra's recovery was expected to take at least a year, but by early 2017 he was back home. Once there, the even harder work began. Gone were freedoms previously taken for granted: driving, taking classes, even going outside alone. The years 2017 and 2018 seemed eternal.
Ibarra retrained himself to run, which cleared his mind and helped him get back into the weight room.
"The only thing I can attribute me coming back to is I'm a fighter," Ibarra said. "A lot of people say how driven I am after what happened to me, but I don't see myself as special."
Finally, in the fall of 2019, he was back in class.
Assistant Professor of Nursing & Health Sciences John Koshuta taught Ibarra the same courses pre- and post-accident: cross-cultural health and health policy and law. Ibarra shared what happened with fellow students.
"The focus could be on himself, but Gilbert chooses for it to be about finishing what he started and at the same time potentially helping others understand," Koshuta said. "We talk about DNRs (do not resuscitate), people's rights when they are not conscious and how people need to have documentation for things like that. He's very open and vocal about that experience. He's got an opportunity to make a difference in other people's lives."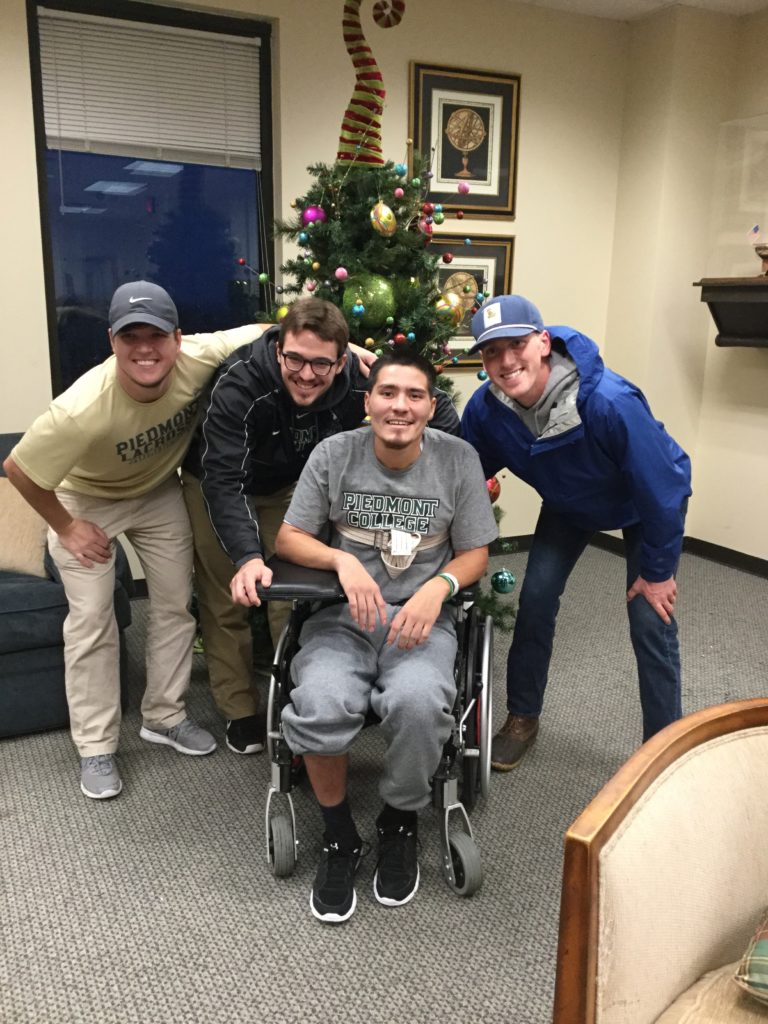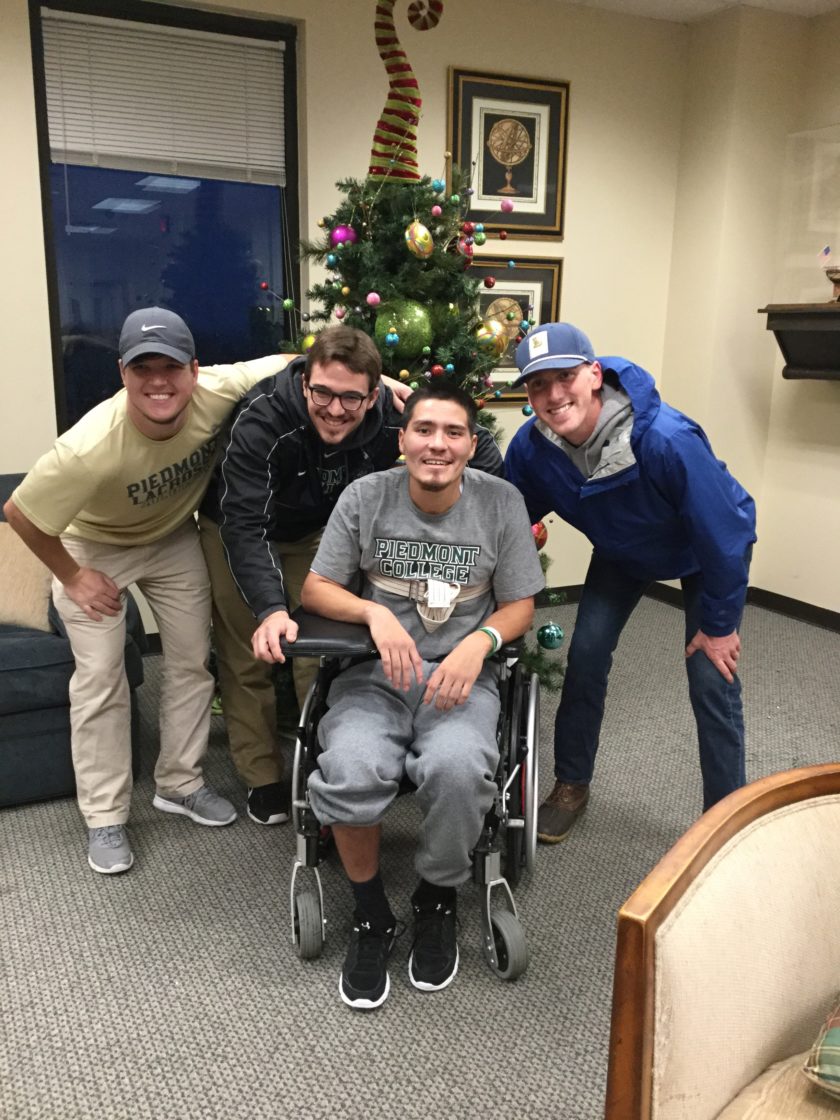 Ibarra was also in Dondanville's research methodology class last fall. She described him as more thoughtful and purposeful now than prior to the accident. Like his fellow students, Ibarra was required to give a presentation.
"He did such a great job. He was so prepared," Dondanville said. "His classmates gave him an honest-to-goodness ovation and one of his classmates, another lacrosse player (Zach Czulada), stood and said, 'We love you, man. We are so proud of you for the work you've done. If you can make this work, then we all need to make it work.' We were all crying."
She said everyone who meets Ibarra can't help but root for him.
"And he's doing it," Dondanville said. "He passed his classes on his own merit. He did the work."
A man with a message
Outside of class, Ibarra holds two jobs as he did before. He is a security guard and a seasonal server.
Even lacrosse is back in his life. He coaches part-time at Riverside Military Academy (RMA) in Gainesville following a chance meeting with RMA's lacrosse coach at one of his sister's volleyball games.
"One thing led to another and ba-da-boom, I'm coaching," Ibarra said.
Ibarra never thought of himself as a coach or, for that matter, a helmet advocate. He now "would speak in front of a thousand people" about wearing one. His capstone subject is Traumatic Brain Injury.
As Dunton said, "Unfortunately, he has that story to tell, but fortunately for some other people, his story can go a long way."
Had he worn a helmet the day of the accident, Ibarra might have graduated as planned in 2017. He is on track to graduate this July with a degree in health care administration.
"There are a lot of things that I could have done that I can't do now," Ibarra said. "Some doors closed. Some doors opened. I don't know why God kept me here—twice—but you can bet I am going to find out."