Back to news
Turning twenty
It's been about two decades since Dr. Frances Brown first stepped onto Piedmont's campus.
Back then, she had a herculean job: start a nursing program. In her mind was an endless checklist: program accreditation, student recruitment, developing curriculum, hiring faculty, and a feasibility study among many others.
But Brown, then 64, was uniquely equipped for success. She had recently retired as the Dean of the College of Nursing at Valdosta State University, which had 425 students and 25 faculty.
Meeting her that day was Dr. W. Ray Cleere, who had been President at Piedmont less than two years.
The two were old friends. Both moved up through the academic ranks at Valdosta. When Cleere left the university in 1982, he was the school's chief academic officer. Brown served as a professor, assistant dean, and dean at Valdosta for 19 years.
At the time, Piedmont had an enrollment of less than 900. And the new president's top initiative was to attract more students.
He knew Brown had retired from the state of Georgia but wasn't quite ready to settle down to a life of full-time leisure, travel, and spending time with family. He also knew that she liked a challenge.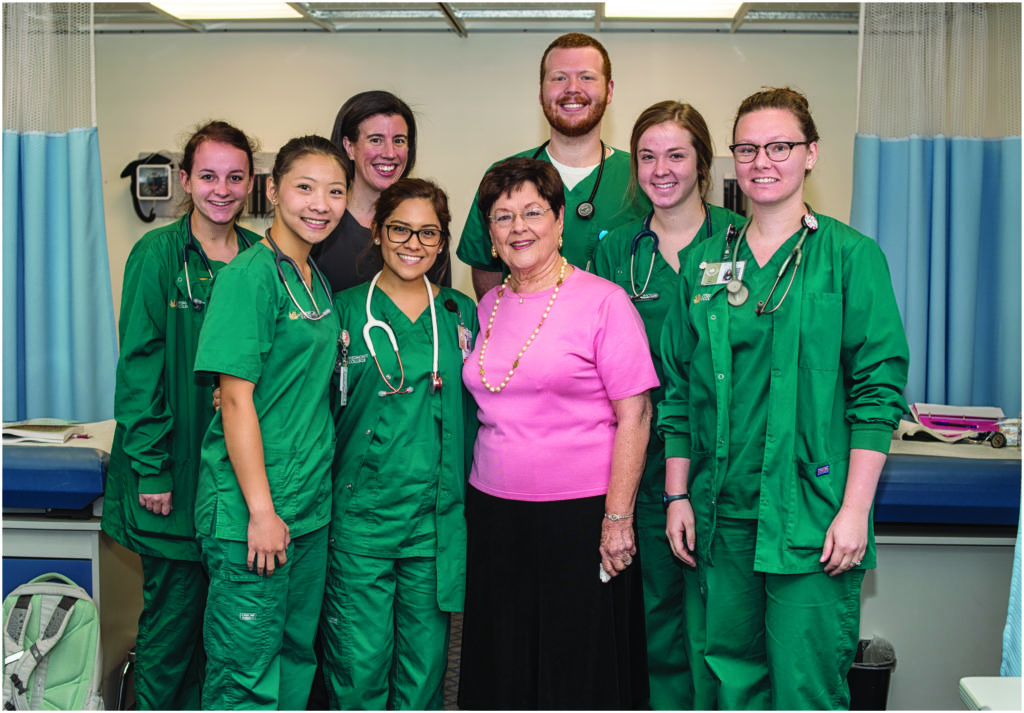 And it was the appeal of "starting something from scratch" that drew Brown to Northeast Georgia.
"I told him that I would come in and get the program implemented, graduate one class, and then turn it over to someone else," says Brown, now 85. "Well, I went back on my word. I stayed until the second class graduated."
The new program set up shop in the attic of Daniel Hall. Brown hired faculty that she had worked with at Valdosta and set about developing the curriculum. More importantly, she and the nursing faculty developed the founding philosophy for the program. It would be committed to academic rigor, patient care, and compassion. Fifteen students enrolled in that first class. Only seven graduated. But those that did passed the National Council Licensure Examination (NCLEX) on their first attempt.
That philosophy thrives today and has been the cornerstone of the nursing program's remarkable success.
There are about 60 nursing programs in Georgia. Each is evaluated on how many of its graduates pass the NCLEX. Nationally, the pass rate average is 84.49 percent. Last year, Piedmont's pass rate was 96.55 percent. This places Piedmont in the top five of all programs in the state.
"The reason for the success rate is that we have high standards and committed students," says Dr. Julia Behr, Dean of the R.H. Daniel College of Nursing & Health Sciences. "As a small college, we give our students much more individual attention. We get to know their strengths and weaknesses, and this helps us to be better teachers."
There are 180 nursing students on Piedmont's campuses in Demorest and Athens. All enter the two-year program after their sophomore year. Some enrolled at Piedmont as a freshman. But a majority are transfers from other institutions.
Accepted students must possess a better-than-average score on the TEAS (Test of Essential Academic Skills) or HESI (Health Education Systems Incorporated) examinations and have a grade point average of greater than 3.0.
Students spend time in the classroom, lab, simulation, and clinical settings throughout their junior and senior years. The academic and clinical pathway of a nurse is not easy.
"Nursing is a tough field. It is not a major for anyone who is afraid of hard work and dedication," says Behr. "Our students must complete 800 hours of direct-patient clinical care. Sometimes they have to be at the hospital at 6 a.m. That's not for everyone."
Students will spend some of their time in the company of simulators, imitation human patients that can be programmed to realistically present illnesses and symptoms. Oftentimes a professor – sometimes located behind a one-way mirror – controls how the simulator responds to a treatment. He or she can adjust the blood pressure, heart rate, or even induce a seizure.
"The goal is to get our students to think on their feet," says Behr. "Like in a real setting, they work in teams. They collaborate to make the best decisions."
Like Brown, Behr spent much of her career working at a large nursing school. Before joining Piedmont, she served more than twenty years at Augusta University (formerly the Medical College of Georgia), the last six years as an associate dean on the college's Athens campus.
The opportunity to lead a program – and make a difference – attracted her to Piedmont.
"Piedmont is a college that is entrepreneurial, and I liked that," she says. "At a smaller school you can be more flexible and make changes that can be impactful. Now, I can also teach a class or two, and I have really enjoyed working with the students.
For those who successfully navigate nursing at Piedmont, a well-paying job is almost always the reward. Starting salaries for nurses is around $65,000. Many in the field work three, 12-hour shifts and have the remainder of the week free.
"I have found that this work schedule is particularly attractive to some millennial students who enjoy traveling and experiencing different things," says Behr. "It can be a very flexible lifestyle."
Looking ahead, Behr says the nursing program is beginning to outgrow its facilities in Demorest. Classrooms are packed and students have to sign up for shifts to get valuable lab time. The college, she says, is examining options that would give the program room to grow.
As for Brown, who returned to campus last fall to be honored, seeing the seed she planted 20 years ago grow into top-ranked program is "more gratifying than you will know."
"It's very humbling to have a legacy at Piedmont," she says. "But we all know that nothing is ever done by one person. There were a lot of faculty and administrators who worked very hard to see this through. The most important thing is we are helping the students to be successful in their careers in nursing."