Questions?
Contact a member of our University Advancement team:
---
The Annual Coach Cave Memorial Golf Tournament is named for the late Leon O'Neal Cave, who served as a coach and athletic director at Piedmont from 1948 to 1983. All proceeds go to the Coach Cave Scholarship and general funding for athletics. Learn more about Coach Cave's impact on students and the Piedmont community.
35th Annual Coach Cave Memorial Golf Tournament
Monday, June 12, 2023
Lanier Islands Legacy Golf Course
700 Lanier Islands Parkway
Buford, GA 30518
678-318-7861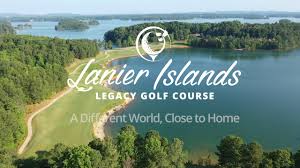 Discover the lavish fairways, silky bunkers and masterfully manicured greens of Lanier Islands classically designed 18-hole golf course. Situated along the shores of Lake Lanier, the award-winning Legacy on Lanier Golf Course presents a distinct variety of uncompromising vintage characteristics sure to challenge and excite a wide range of skilled golf enthusiasts. Quiet, peaceful, and teeming with wildlife, you won't find another course in North Georgia so distinguished by its commitment to quality, service and the glory of Georgia golf.
Past Tournaments
Who is Coach Cave?
Leon O'Neal Cave was born May 29, 1919, the son of Leon C. and Clara Cecille (Creech) Cave. Although he was born in Belvedere, S.C., he received his education and spent his life in Georgia. A graduate of Houghton Elementary School and Richmond Academy High School in Augusta, he received a diploma from Augusta College in 1940 and in 1942 a BS degree from Georgia Teachers College in Statesboro. Following the wartime service with the United States Navy, from which he was discharged in 1946 at lieutenant senior grade, he served as teacher/coach in the high schools of Toccoa (1946-47) and Fitzgerald (1947-48). In 1948, he was awarded the MA degree by Peabody Teachers College.
During his 36 years at Piedmont, Cave served as athletic director, senior coach of men's varsity basketball, supervisor and manager of the Piedmont Golf Course, and various intervals as Dean of the College and Dean of Men. During those years he inspired both students and younger coaches by his example of good sportsmanship, clean living, and right thinking. An influential member of the community, he served as scout-master, director of a scout training camp, charter member and past president of the Habersham Country Parks and Recreation Department Board, Rotarian, and member of the board of trustees of the Demorest Elementary School and North Habersham High School.
Cave's professional honors included presidency of the Georgia Intercollegiate Athletic Conference (GIAC) and GIAC Coach of Year in both basketball and baseball. In 1970, Piedmont awarded him the honorary degree of Doctor of Education. Coach Cave had the rare ability to keep sports in proper relation to the larger goals of education and to impart that philosophy in language understood by his teams. In an interview in the Tri County Advertiser, February 23, 1984, Cave expressed his concept of that relationship: "With kids, the first and most important thing is education. Sports shouldn't necessarily take a back seat, but the kids need to be constantly reminded of why they are there. You'll find a lot of teachers who could be doing something else, something that pays better, but it's a rewarding experience to see a kid develop and grow. Hopefully you can help the kid."  
Cave's sudden death, January 21, 1985, six months after retirement, brought grief to many. His funeral, held January 24, 1985, the first to be held in the Piedmont Chapel, was attended by a host of friends, colleagues, and former students, many of them coaches and teachers in Georgia. Coach Cave was survived by his widow, the former Kathryn Ellison, two daughters, a son, and grandchildren. He is memorialized in the O'Neal Cave scholarship established at the college, the naming of Cave Arena, home to the men's and women's basketball and volleyball teams in the Johnny Mize Athletic Center. The Coach Cave Memorial Golf Tournament is held annually in his honor.