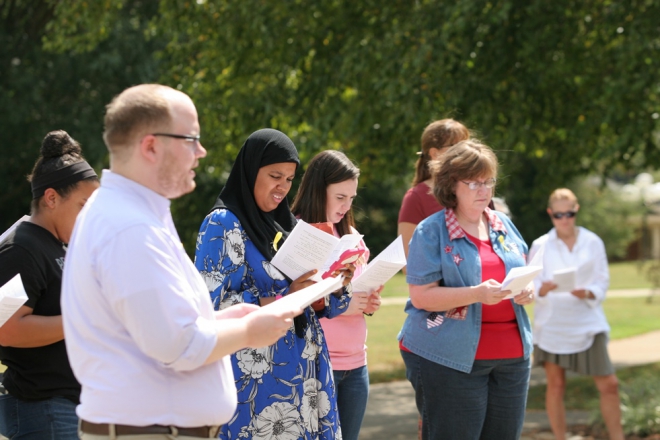 Mission
The Office of the Campus Minister exists to nurture and nourish the spiritual health and well-being of the students, faculty, and staff of Piedmont University. Working with the Piedmont University Community to ensure a welcoming and inclusive spiritual environment, the Campus Minister supports student-initiated programs, creates space for a variety of spiritual groups, collaborates with academic departments on spiritual programming, and continues to foster relationships with our church partners the United Church of Christ (UCC) and the National Association of Congregational Christian Churches (NACCC), as well as local faith communities and social service agencies. 
Message from the Campus Minister
Piedmont University is proud of its Congregational heritage. Many of the Pilgrims who first came to New England in 1620 were Congregationalists. To accommodate the need for a learned clergy, they founded Harvard College 16 years later, and then went on to establish more than 60 colleges, many of them focused on minority groups and women. Our institution was originally a mission outpost to educate students in the mountains of north Georgia. 
As a church-related University, Piedmont recognizes that faith and learning are frequently intertwined. In keeping with Congregationalism, we acknowledge that each individual understands and relates to the Divine in a unique way. We hope that the student body will always represent a breadth of spiritual backgrounds, worldviews, and experiences. Our commitment is to journey with individuals as they probe their spiritual selves, explore questions of faith, and dialogue with persons from a variety of worldviews in the classroom, residence halls, student commons, or on the playing field.
The spiritual life at Piedmont is dynamic: student led worship, social justice initiatives, prayer groups, Bible studies, religious celebrations, 9/11 memorial service, and care packages for classmates who are ill.
If your convictions call you to wrestle with a personal dilemma or raise awareness about a social issue, or you are unsettled about how the Divine is at work in your life or the world, or you would like to simply talk about the current journey you find yourself on, I am available to listen and to support you on your journey.
-Rev Tim Garvin-Leighton
Convocation Message (Fall 2017) – Rev. Dr. Stephen Butler Murray
Church Relations
Piedmont is affiliated with the United Church of Christ and the National Association of Congregational Christian Churches.
Nickerson Congregational Heritage Scholarship
This endowed scholarship is for students wishing to attend Piedmont University who are active members of UCC or NACCC congregations. (Congregational Heritage Scholars are eligible to receive scholarships.)
Students with a high-school GPA of 3.4 or higher will be awarded scholarships in the amount of 100% of tuition. Students with a high school GPA of 3.0-3.399 will be awarded scholarships for 75% of tuition.
Recipients must be 25 years of age or younger and be active members of a congregation of the United Church of Christ or the National Association of Congregational Christian Churches. A letter signed by the minister and an officer of the student's local church stating that he or she is a member in good standing must be submitted to the Director of Church Relations. Congregational Heritage Scholarships are available for eight (8) semesters. Recipients are required to maintain a minimum 3.00 GPA at Piedmont and live in campus housing. They may apply for additional need and merit-based financial aid.
Since 2000, students from the following NACCC and UCC congregations have received scholarships from Piedmont University:
United Church of Huntsville
Huntsville, AL
First Congregational Church
Anaheim, CA
First Congregational Church
Los Angeles, CA
West Hartland Congregational Church
Hartland, CT
First Congregational Church
Washington, CT
Lakewood United Church of Christ
St. Petersburg, FL
Vero Beach Community Church
Vero Beach, FL
Praxis United Church of Christ
Americus, GA
Central Congregational Church
Atlanta, GA
Plymouth Congregational Church
Wichita, KS
North Deering Congregational Church
Portland, ME
Skowhegan Federated Church
Skowhegan, ME
First Congregational Church
Nantucket, MA
First Congregational Church of Yarmouth
Yarmouth Port, MA
Mayflower Congregational Church
​Lansing, MI
Plymouth Congregational Church
Lansing, MI
First Congregational United Church of Christ
Owosso, MI
People's Congregational Church
Bayport, NM
Grace United Church of Christ
Greencastle, PA
Peace Congregational Church
Clemson, SC
Pilgrim Congregational Church
Milwaukee, WI
Contact the Campus Minister