Rent
Sep 28th, 2023 7:30 pm - 10:00 pm
Mainstage Theater, 365 College Drive, Demorest, GA 30535
Directed by Bill Gabelhausen
Thursday, September 28, 2023 – Saturday, September 30, 2023 at 7:30 p.m.
Sunday, October 1, 2023 at 2:00 p.m.
Performed at the W.R. Cleere Mainstage Theatre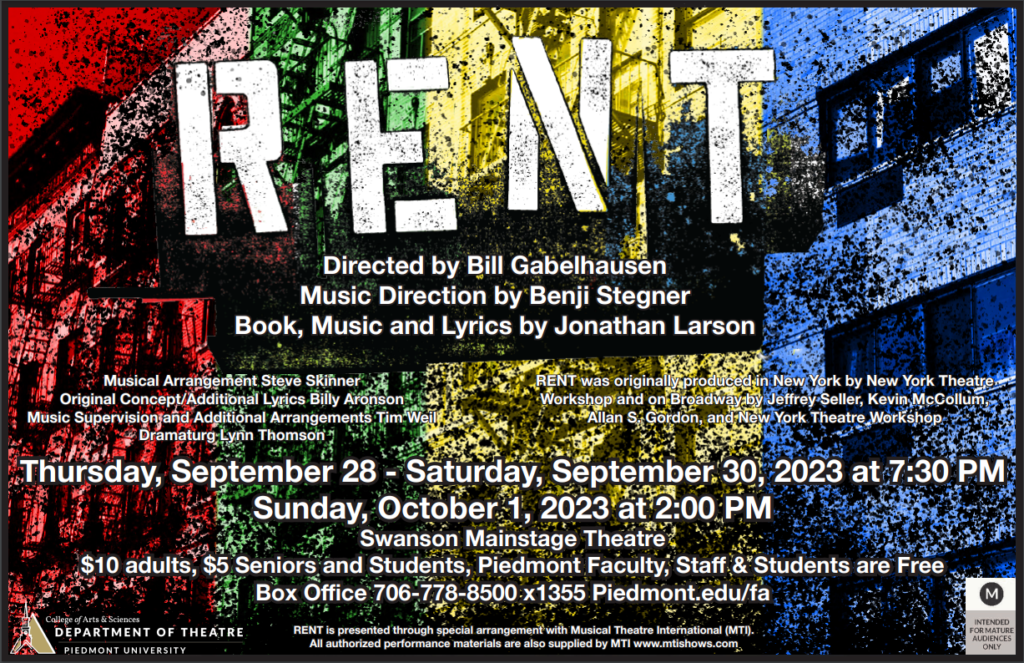 Set in the East Village of New York City, Rent is about falling in love, finding your voice and living for today. Based loosely on Puccini's La Boheme, Jonathan Larson's Rent follows a year in the life of a group of impoverished young artists and musicians struggling to survive and create in New York's Lower East Side under the shadow of HIV/AIDS.
The physical and emotional complications of the disease pervade the lives of Roger, Mimi, Tom, and Angel. Maureen deals with her chronic infidelity through performance art; her partner, Joanne, wonders if their relationship is worth the trouble. Benny has sold out his Bohemian ideals in exchange for a hefty income and is on the outs with his former friends. Mark, an aspiring filmmaker, feels like an outsider to life in general. How these young bohemians negotiate their dreams, loves, and conflicts provides the narrative thread to this groundbreaking musical. Rated M for mature audiences.
Tickets
Free: Piedmont Faculty, Staff, and Students
$10: Adults
$5: Seniors and Non-Piedmont Students
Tickets may be purchased at the link below or call the box office at 706-778-8500 x1355, Monday-Friday from 1-5 p.m.