Back to news
Piedmont Students Visit D.C. for Prestigious Scholars Research Program
Piedmont University students were selected to participate in the prestigious 2023-24 Scholars Transforming Through Research (STR) Program sponsored by the Council on Undergraduate Research (CUR), which included a trip to Washington, D.C.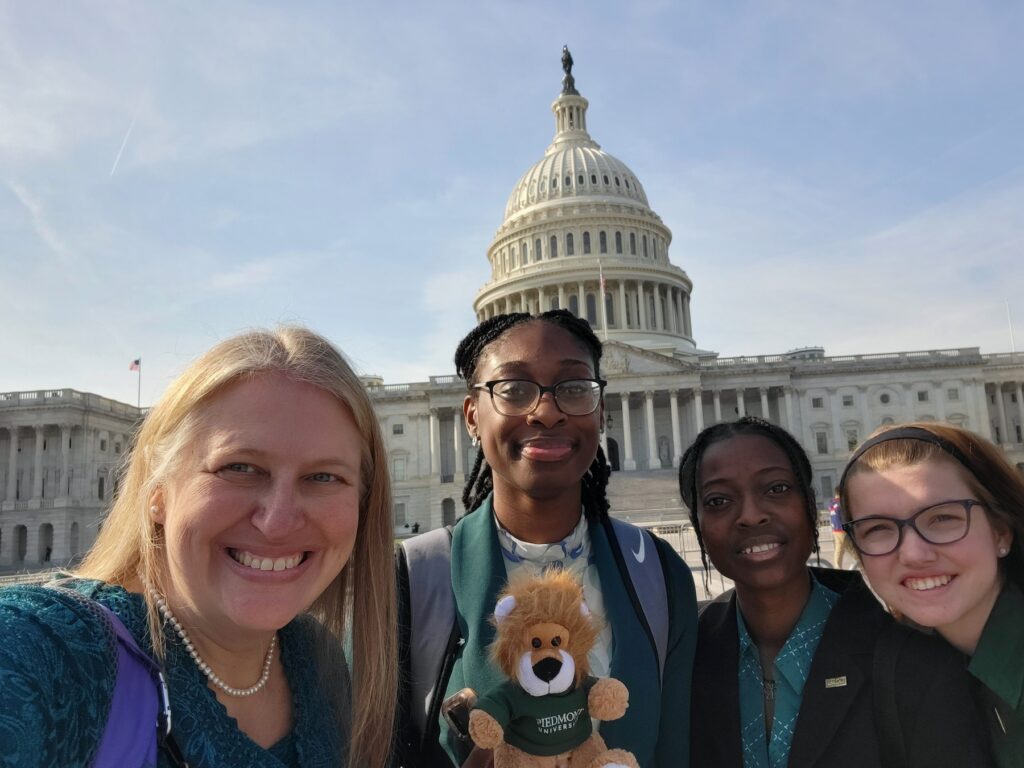 Piedmont Biology Professor Dr. Julia Schmitz accompanied students Shay Bataille and Addie Bowen and alumna Imani Vincent on the Nov. 5-6 trip. (See more photos from the trip below story.)
The STR Program is a six-month professional development program that teaches participants to communicate the impact of their undergraduate research to various stakeholders, such as funding agencies, association partners, elected officials, and the community.
The students talked with staff members of the offices of U.S. Senator Raphael Warnock and U.S. Representative Andrew Clyde. Schmitz said the trio represented Piedmont well.
"They advocated the importance of research at a small university and gave examples of how faculty were learning alongside the students and finding creative ways to help them perform their research," Schmitz said. "Most of the other schools selected for the scholar program have an office dedicated to research and obtaining grants. They were surprised by the depth of research we were performing with limited resources."
It is essential for elected officials to know that faculty at smaller schools help students with research outside of their comfort zone if it is a topic that will help the students in their post-Piedmont plans, Schmitz said.
Vincent graduated from Piedmont this year with a bachelor's degree in environmental science and is now a graduate assistant at Georgia State University. She talked about her senior capstone project and addressed the challenges of undergraduate research and funding for smaller schools like Piedmont.
Since 2019, Piedmont has held an annual Symposium celebrating student research and creative inquiry. Hundreds of students take part and share their research findings, and other students, along with faculty and staff, volunteer to serve as judges, room assistants, and emcees.
"One thing I love about Piedmont is the accessibility to research that stands as proof that Piedmont's system effectively cultivates passionate researchers through the Piedmont Symposium and one-on-one advisor-led exploration where faculty actively engages students," Vincent said. "This experience gave me confidence as a researcher, and it's an opportunity that will not go to waste."
Bowen, a junior double-majoring in forensic science and chemistry, said they also learned about the research and methods used by other participants from around the country. She hopes some of their ideas can be incorporated into Piedmont's student research.
The team had time to explore the city and some of the 10 Smithsonian museums around the National Mall.
"I absolutely loved going to Washington, D.C. Not only did we talk to representatives of our congressmen, but we also got to learn about important parts of our nation's history," Bowen said. "I learned so much about how to carry myself and to confidently talk about important subjects. It was truly a wonderful experience."
"My time in Washington, D.C., was an experience to remember as we explored iconic monuments and museums and attended the STR workshops," Vincent said. "It was my first time in D.C., and my favorite museum by far was the National Museum of Natural History."
Piedmont's team is one of 41 selected through a competitive application process. The teams represent 35 institutions from 19 states and are made up of 41 campus representatives and 90 undergraduate researchers.
STR teams become part of the CUR's advocacy ambassadors to be called upon to meet with elected officials, write op-eds/blog posts, and other similar activities.
To learn more about Piedmont's research efforts, visit piedmont.edu/symposium.