Back to news
Dr. Elaine Bailey's Favorite Part of the Job? Students, Students, and Students!
Note: The Faculty Spotlight series features the people who educate Piedmont University students. We ask them about their childhood, first jobs, and why they love their work.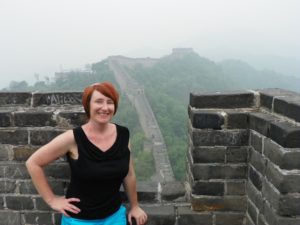 Dr. Elaine Bailey wears three hats at Piedmont University, where she has taught since 2011. She is an Associate Professor of Chemistry, Associate Dean for the School of Humanities and Sciences, and the Department of Natural Sciences chair.
The professor also wears many different shoes; as Bailey's students can attest, they are almost always high-heeled. That could have something to do with Bailey's first job. She worked for a shoe company for 10 years — long enough to get a retirement check.
From early in her life to the present day, Bailey has loved painting sceneries.
"The passion has continued, and I find myself traveling to exotic locations just to get the perfect images to paint," Bailey said. "This has led me to Egypt, Peru, China, and many other beautiful locations."
She also goes to France as often as she can, partly because Bailey has family there. Her father is French, and her mother is American. Bailey did not speak English when she came to the U.S. at about seven years old. She learned via videotapes.
"I now speak English just fine, but my spelling stinks. I always want to add more vowels," Bailey said.
If not for "an amazing chemistry teacher" at her high school who sparked her interest in the subject, Bailey might have become a "poor, starving artist."
"I am a much better professor than painter," Bailey said. "Honestly, there is no other job for me."
The shoe company Bailey worked for allowed her to transfer from one store to another. She kept the job while moving from Florida to Georgia to further her education. She earned a Bachelor of Science degree in chemistry at Armstrong Atlantic University.
When Bailey was accepted to graduate school at Auburn University, she quit the shoe company and planned to become a lab chemist. As she completed her Ph.D. in organic chemistry, she started tutoring.
"I realized that I enjoyed helping students understand the material and trying to find new ways to explain things," Bailey said.
Today, Bailey does that for Piedmont students. She loves all chemistry, but organic chemistry, one of the most challenging college courses, is Bailey's true love. She wants to share that with students.
"I spend a lot of time finding ways to teach students to appreciate it for what it can do for us," Bailey said. "Understanding how it works has led to the production of medicines, food additives, perfumes, fuels and other important materials. Organic chemistry is everywhere and applies to so many fields, including medicine, biochemistry, forensics, environmental science, nutrition, and so much more."
Bailey is grateful to be able to do what she loves every day and that she does it at Piedmont.
"One of the things I love about Piedmont is that I have been able to teach various courses in the style that I choose. In our department, there are a lot of creative people with great ideas and wonderful teaching skills. I appreciate everyone's ideas, and the sharing of these ideas makes our department fun and dynamic."
But the very best part about being a college professor?
"Students! Students! Students! They are amazing and fun," Bailey said. "I truly love working with them in class and out of class. It is so fulfilling to see how they change over the course of four years. It is also incredible to see what they do after they leave Piedmont. It gives me pleasure to think that I have had some effect on them."
"Many of my former students are now pharmacists, professors, doctors — the list goes on. Isn't that incredible?"