Back to news
Piedmont University Theatre Presents "Bright Star" March 30-April 2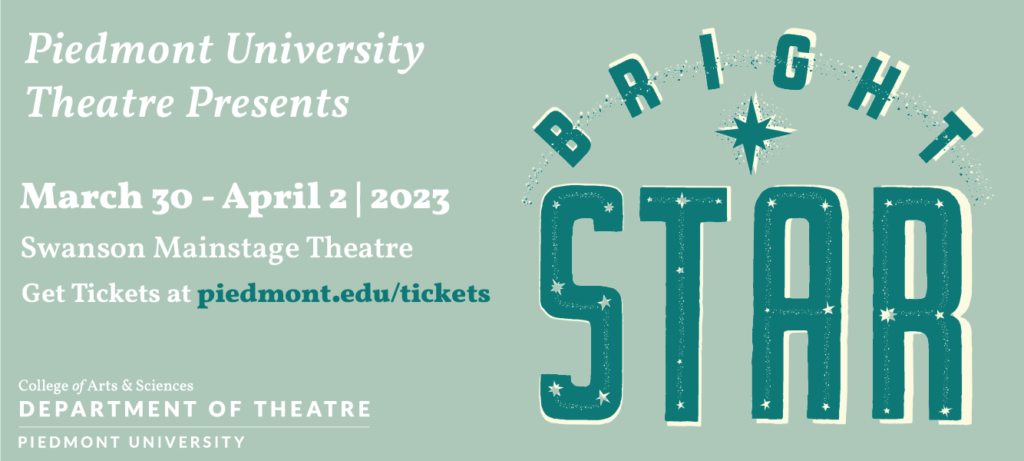 The Piedmont University Theatre 2022-23 mainstage season continues with Bright Star, March 30-April 2.
Written and composed by Steve Martin and Edie Brickell, and inspired by the Iron Mountain Baby folk story, Bright Star tells a tale of love and redemption set in the Blue Ridge Mountains of North Carolina in the 1920s and '40s.
WWII veteran Billy Cane moves to Asheville to pursue his dream of becoming a writer. He approaches Alice Murphy, editor of the Asheville Southern Journal, in the hopes of getting his work published. We then flashback to the 1920s to follow the love story of young Alice Murphy and Jimmy Ray Dobbs, star-crossed lovers fighting against family and societal expectations. Moving back and forth in time, we learn about Alice and Billy and discover a connection neither thought possible. You will be hooked by their mysterious relationship and the adventure of discovery in this modern bluegrass musical.
Professor Bill Gabelhausen directs the production, while students Jonathan Furlow (Kingsland, Georgia) and Sof Delgado (Orlando, Florida) are assistant director and stage manager, respectively. Barbara Luhn music directs. Current students Hunter Reum (Naples, Florida) will serve as the cast's acting coach and Jo Collinson (Gainesville, Georgia) choreographs the production.
Joining Delgado as assistant stage managers are students Tyler Pellegrino (Kingsland, Georgia) and Mary Gaines (Elberton, Georgia). Professor John Spiegel designs costumes; Atlanta-based designer Jessica Coale designs lights; Piedmont Alum Taylor Pope (St. Mary's, Georgia) sound designs; and Piedmont Alum Melanie Stevens designed the set.
Cast members include:
Alice Murphy, Gracie Tipton (Gainesville, Georgia)
Billy Cane, Gabriel Richman (Dallas, Georgia)
Daddy Cane/Ensemble, Dante Wilson* (Gainesville, Georgia)
Margo Crawford, Lexie Partain (Elberton, Georgia)
Max/Ensemble, Max Daves (Toccoa, Georgia)
Florence/Ensemble, Dakota Rose Chen* (Bogart, Georgia)
Edna/Ensemble, Haylie Collins* (Grayson, Georgia)
Daryl Ames, Marius Krings (Bonn, Germany)
Lucy Grant, Carly Jelinek (Kingsland, Georgia)
Mama Murphy/Ensemble, Lydia Todd (Royston, Georgia)
Daddy Murphy/Ensemble, Joshua Farmer* (Lawrenceville, Georgia)
Mayor Josiah Dobbs, Carson Letner (Dallas, Georgia)
Jimmy Ray Dobbs, Johnny Seven Goodwyn (Moultrie, Georgia)
Stanford, Clayton Maddox* (Monroe, Georgia)
Dr. Norquist/Ensemble, Ethan Spinks* (Kingsland, Georgia)
Station Master/Ensemble, D.C. Stoltz (Eastanollee, Georgia)
Government Clerk/Ensemble, Hannah Sheffield (Blairsville, Georgia)
Well-Dressed Woman/Ensemble, Lyric Rogers (Crawford, Georgia)
Ensemble, Jo Collinson* (Gainesville, Georgia)
Ensemble, Ally Kaspor* (Monroe, Georgia)
Ensemble, Hannah Willems (Bonn, Germany)
Ensemble, Athena Lux* (Oakwood, Georgia)
Ensemble, Corby Stroud (Saraland, Alabama)
Ensemble, Meredith Pollette (Tucker, Georgia)
* denotes dance corps.
Bright Star will be performed at 7:30 p.m. Thursday through Saturday, March 30-April 1, and at 2 p.m. on Sunday, April 2. All shows will take place in the Swanson Center on Piedmont's Demorest campus.
General admission is $10 for adults, $5 for seniors and students. Admission is free for Piedmont University faculty, staff, and students. Tickets may be purchased online at piedmont.edu/tickets or by calling the box office at 706-778-8500 x 1355.
Learn more about Piedmont's Fine Arts events and programs at piedmont.edu/fa.