Back to news
Northeast Georgian Features Marathon Runner, Soprano Dr. Andrea Price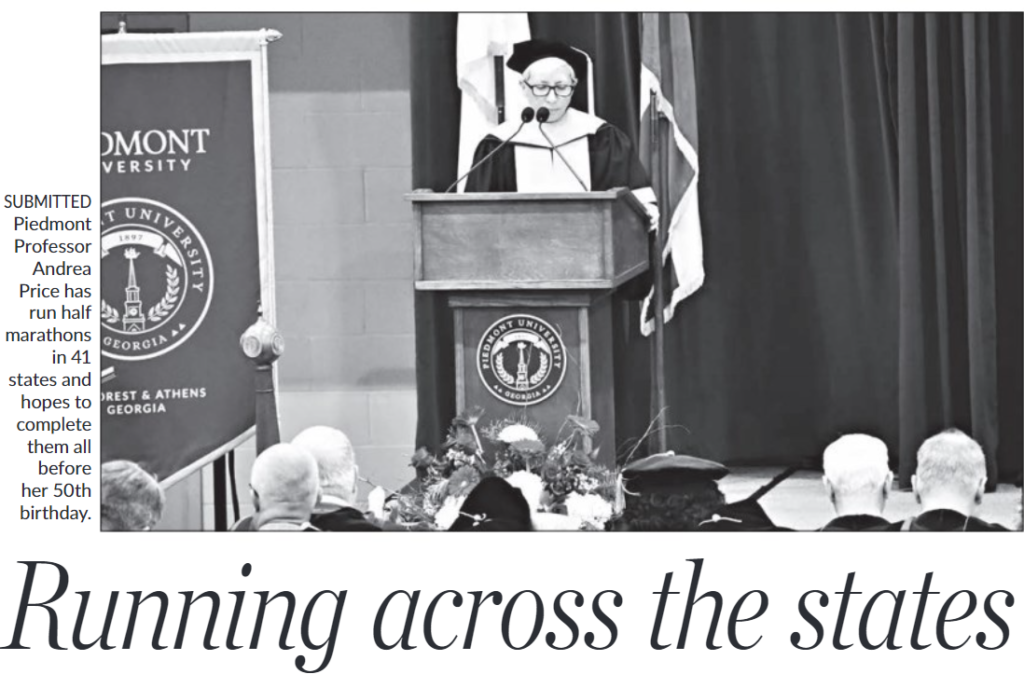 This story appeared in the Feb. 10, 2023 edition of The Northeast Georgian.
By John Dills
Piedmont University Professor Andrea Price has had a remarkable career in music, alongside a long-term determination to run in all 50 states. Price has been a professor at the university since 2008. With a background in music, Price has been making vocal performances across the pond in Ireland and the southern hemisphere, even performing in New Zealand.
With such a busy career, Price still makes time to run at least four days a week. That same determination had
brought her into running half and full marathons. Price stated she started running to say she completed a marathon.

Originally going into running just for the experience of it, Price has made it her goal to run in every state ahead of her 50th birthday. As of now, she is on track to reach her goal by 48.
"I had been watching The Biggest Loser on NBC. That season they had all of the contestants run a marathon. Knowing what I know now about running, that's a pretty insane feat for someone who's not training," Price said. "I remember watching these people struggle, and I thought, 'If these guys can get out there and run a marathon, why am I not running,' and never having run, the next day I signed up for the Atlanta Thanksgiving Half Marathon. I signed up just to see what it was like and just to say that I did it."
From that race, Price took a quick break before jumping right back into running in New York. "The next one I
signed up for was the Lake Placid Half Marathon. Don't ask me why I chose that one. Hey, I've never been there,
I want to go there and see what that's like. Then I thought 'Hey, maybe I will do one of these in every state.' It
kind of ties into when I was in the fifth grade. There were all of these places that my family had never been," she said.

"My dad's parents, they were depression-era adults. They barely made it out of North Carolina into the Virginia and South Carolina borders. Kind of just got interested in turning it into a travel thing. I loved the structure this provided me. I love my job, and I love what I do. I love having something that makes me, me, that's not only my job."

Running through difficult weather has not been able to deter Price from participating.

"My coldest and my hottest I ran in the same year. That was 2018," Price said. "On Jan. 1, 2018, I ran one in Wichita, Kansas. It was negative two with a windchill of minus 14. I got first in my age group at that one. That was pretty brutal, there's things you don't imagine like tears freezing. It's that cold. The Arkansas river was frozen. It's not that bad as long as you're moving and dressed appropriately.

"Then I ran one in the Mojave Desert outside of Vegas that same year, that one I had to get treatment after because of the heat. I was the second woman to finish the half marathon at that one. The heat is much more brutal. This bee was never in my bonnet until I started doing it."

Price completed a trip she had thought of since fifth grade – the Great Salt Lake in Utah.

"I always wanted to see that. Whenever I did that Boulder-Provo part of my trip, I went to the Great Salt Lake and it was the most disgusting thing to get in the water," she said.

"Full of brine shrimp and brine flies and it was in June. They were having record heat; it was 99 degrees that day. But I promised my fifth-grade self that one day I would do that. I waded all of the way out and it's like sitting in a chair, you're floating."
Price mentioned that running is like music in determination to practice.

"We don't always feel like practicing. When we have a performance, when that caret is in front of us, we know that we have to work for it. That's why I keep signing up for races. It's not that I wouldn't run, it's the external motivation that makes me keep going. As soon as this bucket list is completed, there will be another one. I just haven't decided what that list is going to be yet."

Price mentioned she has done as many as seven races a year and a minimum of two to three in a year. She has a record of running 45 half marathons and marathons and three full marathons.
Through her running, she has competed in half marathons in 41 states, only leaving out New Hampshire, North Dakota, Alaska, Minnesota, Illinois, Vermont, Connecticut, New Jersey and Pennsylvania. Price has
also run in marathons in Washington, D.C. and Ireland. She plans to run in New Hampshire next and will run in North Dakota in May.

"This is good for my singing. Cardio does great things for breathing," Price said. "It's just the discipline it provides. It gives me something to work for and something to look forward to. I can't imagine not having a goal after this is over because I want to keep doing this."